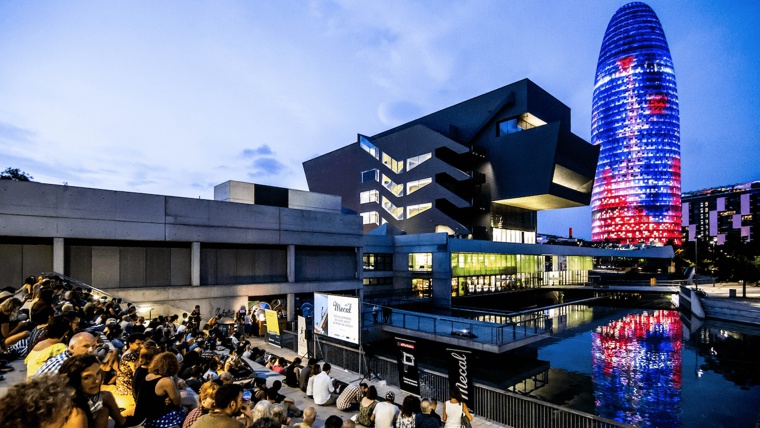 Short films. Open-air screenings every Friday in the summer.
Mecal's short films return to the streets of Barcelona like a breath of fresh air, as Mecal Air 2022 gets under way with open-air screenings of shorts every Friday.
In June, in the Parc del Clot (on the basketball court), and in July, August and September, in the Jardins Elisava (behind the Museu del Disseny, in Glòries).
The Barcelona International Short Film and Animation Festival thus returns to its origins and its true essence: MECAL began as the European Open Air Short Film Festival, a series of open air screenings to enjoy the best short-format pieces from the international scene, beneath the stars.
The oldest summer cinema in Barcelona, ​​a classic of Barcelona nightlife during the hottest months, features free admission and also offers a bar service.
Programme:
10 June| Inauguration: Megaparties
17 June Animation
24 June| Terror
1 July | Comedy 1
8 July | Sci-Fi 2
15 July | Creative advertising
22 July | Eroticism
29 July | Cuba
5 August | Super-short shorts
12 August| LGBTQ+
19 August | Comedy 2
26 August | Indie shorts
2 September Canada
9 September Documentaries
16 September | Best of summer
Sessions not recommended for children under the age of 16.
Traductor de

:
Schedule
Days
Hours
Preus
Observation

Divendres

a les 20:00 h

Entrada Gratuïta

Obertura de portes a les 20 h




Sessions des de les

21.30 fins a les 23 h.
Els curtmetratges de Mecal tornen als carrers de Barcelona com una glopada d'aire fresc: el Mecal Air 2022 arrenca amb sessions de curtmetratges a l'aire lliure tots els divendres. Juny al Parc del Clot (a la pista de bàsquet); Juliol, agost i setembre als Jardins d'Elisava (darrere el Museu del Disseny, a Glòries).
Inaugurem divendres 10 de juny!
El Festival Internacional de Curtmetratges i Animació de Barcelona torna així als seus orígens, a la seva essència: no cal oblidar que MECAL va començar com a Mostra Europea de Curtmetratges a l'Aire Lliure, una sèrie de projeccions a la fresca per a gaudir de les millors peces en format curt del panorama internacional sota les estrelles.
El cinema d'estiu més veterà de la ciutat comtal, un clàssic de la nit barcelonina durant els mesos més calorosos, serà d'accés fratuit i també comptarà amb servei de barra.
Programació de l'estiu:
10 de juny | Inauguració: Megaparties
17 de juny | Animació
23 de juny | Terror
1 de juliol | Comèdia 1
8 de juliol | Sci-Fi 2
15 de juliol | Publicitat creativa
22 de juliol | Erotisme
29 de juliol | Especial Cuba
5 d'agost | Curts curtíssims
12 d'agost | LGBTQ+
19 d'agost | Comèdia 2
26 d'agost | Curts indies
2 de setembre | Especial Canadà
9 de setembre | Documentals
16 de setembre | Best of estiu
Parc del Clot i Jardins d'Elisava
Address:

Carrer d'Àvila, 171

District:

Sant Martí

Neighborhood:

el Parc i la Llacuna del Poblenou

City:

Barcelona
Where

Parc del Clot i Jardins d'Elisava
When

From 10/06/2022 to 16/09/2022
Website
You may also be interested in...
If you would like to make a correction related to this activity...let us know