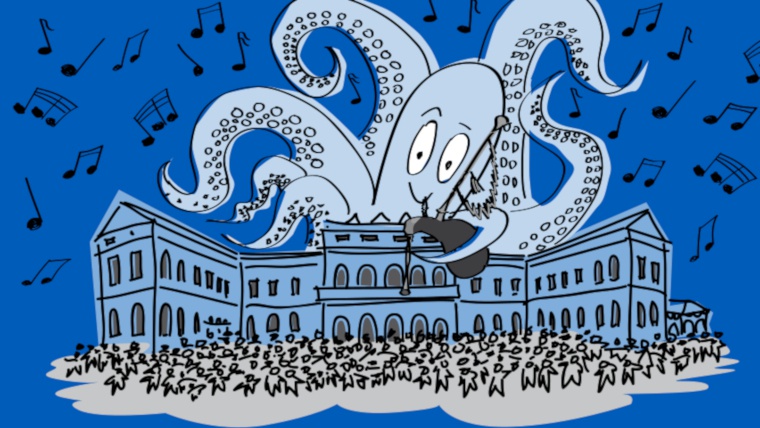 Popular festivals. The traditional Galician festival returns to Nou Barris from 7-9 October.
The Galician festival par excellence San Froilán will be back in Nou Barris from 7 to 9 October, with the key events taking place in the Nou Barris main square.
The party starts on Friday, 7 October, with the Teletaxi Festival, the raising of the flag and a street party. On Sunday 9 October, there will be a mass in honour of San Froilán, a procession and performances by Galician organisations. The festival will conclude in the evening, with a performance by the Panorama Orchestra.
Musical performances and traditional activities will go hand in hand with a broad range of the typically Galician culinary delights that are characteristic of the Fiesta de San Froilán.
All events are free of charge.
You can find the programme here.
Traductor de

:
Schedule
| | Days | Hours | Preus | |
| --- | --- | --- | --- | --- |
| | Divendres | a les 19.00 h | Entrada Gratuïta | |
| | Dissabte | a les 10.30 h | | |
| | Diumenge | a les 12.00 h | | |
Divendres 7 octubre:
- 19 h Inici de la festa: Festival TeleTaxi, amb Justo Molinero i altres artistes i locutors de Radio TeleTaxi
- 21.30 h Hissada de la bandera gallega, amb ball dels Gegants de Nou Barris i actuació de la banda de gaites de l'Agrupación Cultural Rosalía de Castro de Cornellà, que interpretarà els himnes galles i català
- De 22 a 2 h Revetlla a càrrec de l'orquestra La Oca Band, Queiman e Andrea Pousa i pregó de Jesús Novo, alcalde de O Vicedo
Servei de bar i menjar, venda de productes gallecs Casa Díaz
Organitza: Asociación Cultural Amigos de San Froilán
Pl. Major de Nou Barris
Dissabte 8 octubre:
- 10.30 h Jocs tradicionals (pl. Major de Nou Barris)
- 12.30 h Actuacions d'entitats de cultura popular i tradicional: Grupo Jara's de Casa de Andalucía de Barcelona; Centros Galegos de Catalunya (pati de la Seu del Districte)
- 14 h Sessió vermut amb l'orquestra La Oca Band (pl. Major de Nou Barris)
- 17 h Banda Simfònica de Roquetes - Nou Barris (pati de la Seu del Districte)
- 18 h Actuació d'entitats: Grupo Jara's de Casa de Andalucía de Barcelona; Perú Ritmos y Costumbres de l'Hospitalet; ACG Rosalía de Castro de Cornellà, Orfeón Xoan Montes (pati de la Seu del Districte)
- 20 h Orquestra La Oca Band (pl. Major de Nou Barris)
- 21.30 h Presentació de la festa a càrrec de les autoritats assistents (pl. Major de Nou Barris)
- 22 h Orquestra La Oca Band (pl. Major de Nou Barris)
- De 23 a 2 h Orquestra Panorama (pl. Major de Nou Barris)
Diumenge 9 octubre:
- 12 h Missa en honor de San Froilán, oficiada pel pare José Antonio Ferreiro (parròquia A Milagrosa de Lugo) i acompanyada per l'Orfeón Xoan Montes i les parròquies Sant Rafael i Sant Mateu (pati de la Seu del Districte)
- 13 h Processó amb la banda de gaites Xuntanza de Catalunya, Sons de la Cossetània de Tarragona i Gegants de Nou Barris. Itinerari: c. Dr. Pi i Molist, pg. Verdun, pl. de la República, pg. Valldaura, c. Alsàcia fins al pati de la Seu del Districte
- 14 h Sessió vermut, amb actuació de Xuntanza de Catalunya, ACG Agarimos de Badalona i Sons de la Cossetània de Tarragona (pati de la Seu del Districte)
- 17 h Actuació d'entitats gallegues de Xuntanza de Catalunya: Casa Galega de l'Hospitalet, ACG Agarimos de Badalona i Sons de la Cossetània de Tarragona (pati de la Seu del Districte)
- De 19 a 22.30 h Orquestra Panorama (pl. Major de Nou Barris)
Tots els dies: Servei de bar, venda de productes gallecs Casa Díaz
Pati de la Seu del Districte
Address:

Pl Major de Nou Barris, 1

District:

Nou Barris

Neighborhood:

la Guineueta

City:

Barcelona
Where

Pati de la Seu del Districte
When

From 07/10/2022 to 09/10/2022
If you would like to make a correction related to this activity...let us know