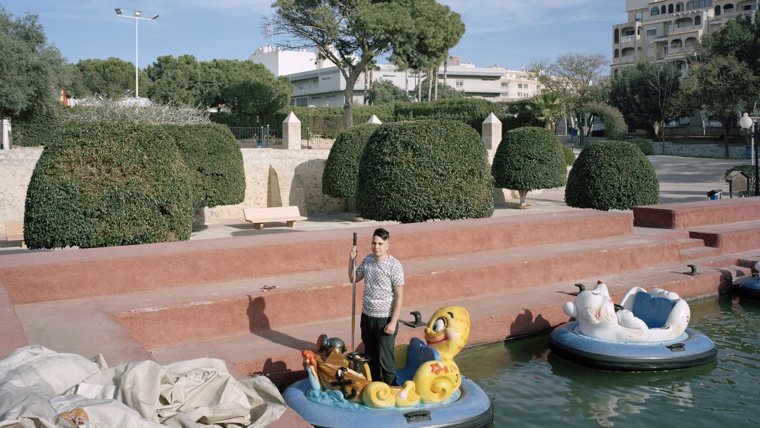 Exhibitions. An exclusive route around the photographer's latest series.
Txema Salvabs is a specialist in studying everyday life and social behaviour which occurs in people's daily lives. We have the chance to find out at Foto Colectania this autumn, in a comprehensive display of the photographer's latest work.
In "Perfect Day", Salvans questions the stereotypes resulting from the over-exploitation of our coastline by tourism, with a route taken from Girona to Algeciras over the period between 2005 and 2020. The work on display groups together different types of places representing moments of leisure. 
The photojournalist's ironic gaze conveys to us the seriousness of these situations, thanks to the documentary and artistic focus deployed over two decades and reflected by the main international media, festivals and museums.  This exhibition comes in addition to the previous works by the artist, published in 2018 ("My Kingdom" and the second part of "The Waiting Game").
Traductor de

:
Schedule
Days
Hours
Preus

dimecres, dijous i divendres

de 16:00 h a 20:00 h

Entrada general de: 4 €

Reduïda: 3 €
- Estudiants
- Majors 65 anys
- Membres del TresC
- Subscriptors La Vanguardia
- Docents
- Carnet de Biblioteques
- Associacions de Fotògrafs
- Carnet Jove
- Targeta client Laie

Gratuït:
- 1r diumenge de mes
- Amics i socis de Foto Colectania
- 12 de febrer (Santa Eulàlia)
- Alumnes de les escoles amigues
- Premsa
- Membres de l'ICOM
- Aturats
- Discapacitats
- Menors de 14 anys

dissabtes

d'11:00 h a 15:00 h i
de 16:00 h a 20:00 h

diumenges

d'11:00 h a 15:00 h
Des dels seus primers treballs fotogràfics, Txema Salvans indaga en el territori de la quotidianitat i en els nostres sorprenents compartiments socials.
Perfect Day és un exhaustiu recorregut per la costa mediterrània, des de Girona fins a Algesires, realitzat entre 2005 i 2020. En aquesta ocasió, Salvans posa el focus en els sorprenents llocs on consumim el nostre temps d'oci. Amb el seu característic estil formal i conceptual, on la ironia ens ajuda a entendre la dimensió de la tragèdia, ens convida a qüestionar-nos els estereotips derivats de la sobreexplotació del nostre litoral turístic.
Aquesta sèrie, publicada en plena pandèmia per l'editorial britànica MACK, condensa de forma contundent i subtil la trajectòria de Salvans, aprofundint en la temàtica que persegueix l'autor en els seus darrers treballs: la resiliència de l'ésser humà per convertir espais aparentment inhòspits en territoris de desconnexió i supervivència personal.
Des de fa dues dècades, Txema Salvans (1971, Barcelona) desenvolupa la seva obra amb un enfocament documental i artístic al marge dels circuïts usuals del fotoperiodisme, apropant-se també a l'assaig fotogràfic.
Joan Fontcuberta ha descrit el seu treball com un "equilibri entre el pensament crític i el sentit poètic de l'humor". Cronista de l'Espanya contemporània, els seus projectes es consoliden, sobretot, en el format llibre. El seu primer llibre Nice To Meet You (ACTAR, 2005) va rebre el premi Photo España 2005 al millor fotollibre. The Waiting Game (RM, 2013) va ser guardonat com a millor fotollibre Iberoamericà (2012).
El 2018 va publicar My Kingdom (Mack, 2018) i també la segona part de The Waiting Game (RM, 2018). Perfect Day (Mack, 2020) és el darrer projecte publicat en plena pandèmia.
L'obra de Txema Salvans ha estat publicada pels principals mitjans internacionals, com Le Monde, Suddeustsche Zeitung Magazine, Stern, New York Times, NZZ, Liberation, Monocle, Colors, Big Mag, Vice, Marie Claire, GQ France, Elephant, British Journal of Photography, Wallpaper, I-D Magazine, Matador i El País Semanal.
Ha exposat en nombrosos festivals i museus, destacant el Centre d'Art Contemporani Arts Santa Mònica, La Virreina Centre de la Imatge, el Museu d'Art Contemporani d'Hamburg, el Museum für Photographie Braunschweig i el Museo Centro de Arte Reina Sofía.
Address:

Pg Picasso, 14

District:

Ciutat Vella

Neighborhood:

Sant Pere, Santa Caterina i la Ribera

City:

Barcelona
When

From 15/09/2021 to 21/11/2021
Phone number
Tel.:

932171626
Website
E-mail
E-mail:

info@fotocolectania.org
You may also be interested in...
If you would like to make a correction related to this activity...let us know