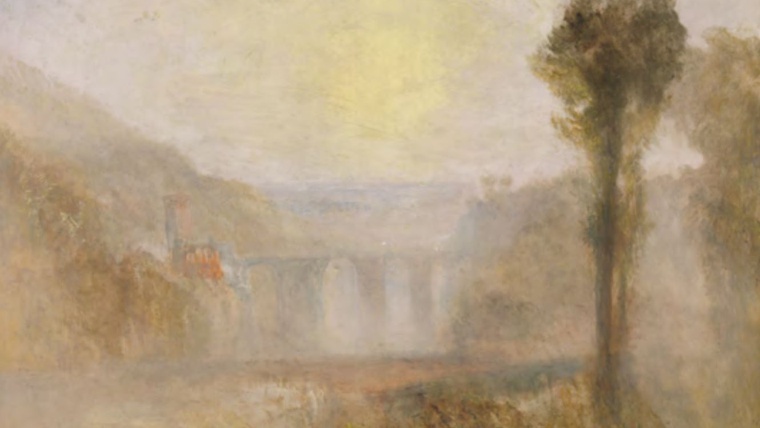 Exhibition. A journey through the artist's most atmospheric landscapes featuring over a hundred paintings, watercolours, drawings and notebooks.
For Joseph Mallord William Turner, the English romantic painter, watercolourist and engraver, the elements of nature are abstract forces that have their own meaning and symbolism. 'Turner: Light is colour' explores the painter's fascination with weather and atmospheric phenomena from the start of his artistic career in the 1790s until the late 1840s.
Turner is widely hailed as the best Romantic landscape painter due to his mastery of light, colour and atmosphere. He painted the colossal forces of nature that were already starting to be threatened back in those times of great changes, in the early days of the first industrial revolution. The exhibition takes around a hundred works, paintings, drawings, sketches and engravings to explore the development of Turner's artistic production from his first sketches to the watercolours, oil paintings and engravings of the latter days of his life.
The exhibition shows the crucial role of watercolours in the artist's scientific yet intuitive approach that enabled him to grasp the intensity of the forces of nature with a precision of expression that remains unrivalled.
Turner's main source of inspiration was his travels both in Britain and in continental Europe, and his landscapes take materials from various sources ranging from classical mythology to the history of art or modern technological inventions, somewhere between tradition and innovation.
The exhibition confronts viewers with a sensory experience of nature that affects us just as much today as it did Turner's own contemporaries.
Traductor de

:
Schedule
Days
Hours
Preus

De dimarts a dissabtes

de 10:00 h a 18:00 h

Entrada general: 6 €

(també permet visitar la mostra "El batec de la natura")

Diumenge i festius

de 10:00 h a 15:00 h
Per al pintor, aquarel·lista i gravador romàntic anglès Joseph Mallord William Turner (1775-1851) els elements de la natura són forces abstractes, amb la seva pròpia simbologia i significat. Aquesta exposició explora la seva fascinació pels fenòmens meteorològics i atmosfèrics, des dels inicis de la seva obra, a la dècada de 1790, i fins a finals dels anys 1840.
Turner, reconegut com el millor paisatgista del període romàntic pel seu domini de la llum, el color i l'atmosfera, pinta les immenses forces de la natura que ja en aquella època de grans canvis, a inicis de la primera revolució industrial, començaven a estar amenaçades. A través d' un centenar d'obres, pintures, dibuixos, esbossos i gravats, l'exposició ressegueix el desenvolupament de les composicions de Turner, a partir d els primers esbossos, fins a les aquarel·les, els olis o els gravats finals.
La mostra revela com l'aquarel·la va ser fonamental en l'enfocament científic, però intuïtiu de l'artista, que li va permetre copsar la intensitat de les forces de la natura amb una precisió expressiva mai igualada. La principal inspiració de Turner va sorgir dels seus viatges per la Gran Bretanya i l'Europa continental i els seus paisatges incorporen fonts diverses, des de la mitologia clàssica fins a la història de l'art o les invencions tecnològiques modernes, i se situen entre la tradició i la innovació. Aquesta exposició confronta l'espectador amb una experiència sensorial de la natura que ens afecta avui tant com ho va fer als seus contemporanis.
Address:

C Mirador Palau Nacional, 6*10

District:

Sants-Montjuïc

Neighborhood:

el Poble-sec

City:

Barcelona
When

From 20/05/2022 to 11/09/2022
Phone number
Website
You may also be interested in...
If you would like to make a correction related to this activity...let us know