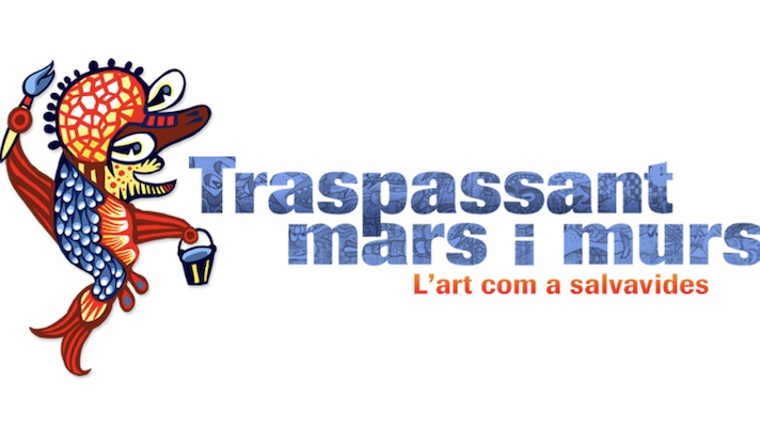 Al vestíbul
Exhibitions. A social transformation project which 182 young inmates took part in.
This display shows photos and preparatory drawings for this social transformation project: a wall of 60 metres surrounding the Can Llupià centre, painted by 182 young inmates who decided to devote the last section to the sea.
Traspassant murs is an art mediation project by the Fundació Setba, a non-profit organisation working for culture through social change. The organisation conceives projects in conjunction with professional artists and is supported, in this case, by the Catalan government's Ministry for Justice.
The general goal of   Traspassant murs is to boost the prospects of reinsertion for the youngsters, for their self-esteem, relational and active skills, by transforming the physical space they share and showing them that art is a valid language.
The  Traspassant murs project started life in 2018 at Can Llupià in Barcelona under the direction of the multi-disciplinary artist Marcel·lí Antúnez and ended in March 2021 after being inactive for a year due to the pandemic.
Traductor de

:
Schedule
Days
Hours
Preus

Tots els dies
excepte 24 de desembre
25 de desembre
26 de desembre
31 de desembre
1 de gener
6 de gener

de 10.00 h a 20.00 h

Entrada Gratuïta

24 de desembre
31 de desembre

de 10:00 h a 15:00 h
L'exposició és un recorregut per sis plafons amb fotografies i vitrines amb dibuixos preparatoris d'aquest projecte de transformació social: un mural de 60 metres lineals, que envolta el Centre Can Lupià, pintat per 182 joves interns, els quals van decidir dedicar l'últim tram al mar.
Traspassant murs és el projecte de mediació artística de la Fundació Setba, entitat sense ànim de lucre que vol contribuir a la transformació social a través de la cultura. La Fundació idea projectes de la mà d'artistes professionals i compta amb el suport, en aquest cas, del Departament de Justícia de la Generalitat de Catalunya.
L'objectiu general de Traspassant murs és augmentar les possibilitats de reinserció dels joves, tant per a la millora de la seva autoestima com de les competències relacionals i d'acció, transformant l'espai físic on conviuen i mostrant-los que l'art és un llenguatge vàlid.
El projecte Traspassant murs va començar l'any 2018 al Centre Can Llupià de Barcelona sota la direcció de l'artista multidisciplinari Marcel·lí Antúnez i va finalitzar el març del 2021, amb un any en blanc a causa de la pandèmia.
Amb motiu d'aquesta nova exposició, el dijous 16 de setembre a les 11 h tindrà lloc una visita guiada per a premsa conduïda per Cristina Sampere , directora de la Fundació Setba, l'artista Marcel·lí Antúnez i la cap d'activitats i exposicions de l'MMB, Mireia Mayolas .
Per al Museu Marítim de Barcelona és una altra oportunitat per mostrar l'imaginari del mar, des del punt de vista d'aquest col·lectiu. Un mar que per a molts d'aquests joves ha estat un punt d'inflexió a les seves existències, ja que les seves noves vides a Europa comencen, i moltes d'elles també acaben, al mar. D'altra banda, per al Museu Marítim aquesta exposició és una nova ocasió per implicar-se en un projecte social, i afermar-se en els objectius de la institució: promoure la inclusió social de tots els col·lectius i, en especial, dels més desfavorits i/o vulnerables.
Address:

Avinguda de les Drassanes, 1

District:

Ciutat Vella

Neighborhood:

el Raval

City:

Barcelona
When

From 16/09/2021 to 20/02/2022
Phone number
Tel.:

933429920

Fax:

933187876
E-mail
E-mail:

informacio@mmb.cat
You may also be interested in...
If you would like to make a correction related to this activity...let us know