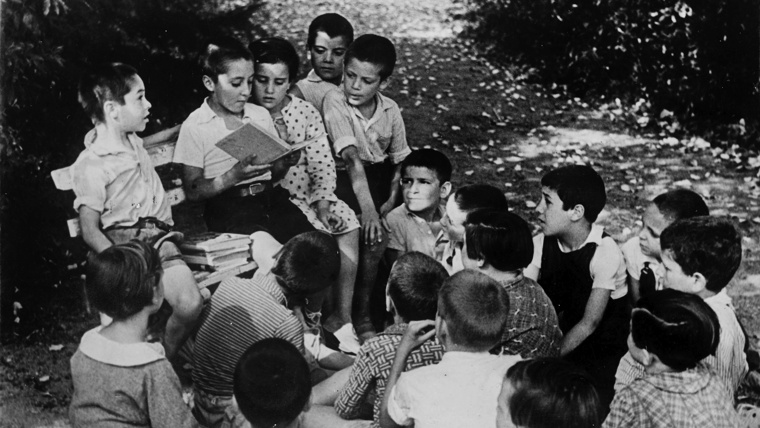 A journey through the political history of education in Barcelona and Catalonia, starting from the City Council's Extraordinary Culture Budget of 1908.
In 1908, Barcelona City Council approved the Extraordinary Culture Budget. This was a plan to overhaul schools in the city, with a focus on high-quality, public, free, secular, mixed-gender education in Catalan. The project was inspired by experiences of educational transformation around the world at the turn of the century.
Due to the rigidness of the most conservative Catalan nationalist sectors, Lerroux's radicals and Catholic groups, the project failed, but it went down in history as a point of reference for subsequent movements that have fought for freedom in education. To trace the evolution of education proposals over time is to outline a key dimension of political debate in contemporary Catalonia, and that is precisely what this exhibition aims to do.
The debate is still ongoing today. What kind of educational model do we need? Before thinking about what should be done, it is first helpful to take stock of what has been done.
Traductor de

:
Schedule
Period
Days
Hours
Preus
Observation

Del 9 abril al 23 juny

De dimarts a diumenge i festius, excepte l'1 de maig i el 24 de juny

de 10:00 h a 20:00 h

Entrada Gratuïta

Portes obertes amb reserva prèvia fins al 23 de juny

Del 24 juny al 31 octubre

Entrada general: 3 €




Reduïda: 2,10 €




Gratuïta:




Els menors de 16 anys i els titulars de la Targeta Rosa Gratuïta
Els titulars del carnet GAUDIR+BCN
Els membres de l'ICOM i l'AMC
Els professors d'ensenyament reglat acreditats per la direcció del centre educatiu o que acompanyin un grup d'estudiants
Les persones amb passi metropolità d'acompanyant d'una persona amb discapacitat
Els periodistes acreditats
Els titulars de la Targeta BCN Card
Els guies turístics acreditats

De l'1 novembre al 28 febrer

De dimarts a dissabtes

de 10:00 h a 19:00 h

diumenges i festius
excepte 25 de desembre
26 de desembre
1 de gener

de 10:00 h a 20:00 h

26 de desembre

de 10:00 h a 14:30 h

De l'1 març al 27 març

De dimarts a diumenge i festius

de 10:00 h a 20:00 h
L'any 1908, l'Ajuntament de Barcelona va aprovar el Pressupost Extraordinari de Cultura. Es tractava d'un pla per a la reforma integral de l'educació a la ciutat que posava l'èmfasi en un ensenyament de qualitat, públic, gratuït, en català, amb nens i nenes compartint les aules i laic. El projecte s'inspirava en les experiències de renovació pedagògica d'arreu del món a tombant de segle.
Degut a la intransigència dels sectors catalanistes més conservadors, els radicals de Lerroux i els grups catòlics, el projecte va fracassar, però es va convertir en una fita que restaria com a referent per als moviments que han lluitat per una educació en llibertat. Resseguir l'evolució de les propostes educatives al llarg del temps és dibuixar una dimensió clau del debat polític a la Catalunya contemporània, i això és el que fa aquesta exposició.
El debat encara avui és ben viu. Quin és el model escolar que necessitem? Val la pena fer balanç del que hem fet per reorientar el que volem fer!
Address:

Plaça Comercial, 12

District:

Ciutat Vella

Neighborhood:

Sant Pere, Santa Caterina i la Ribera

City:

Barcelona
When

From 09/04/2021 to 27/03/2022
Phone number
Information:

932566851

Reservations:

932566850
Website
Web venda d'entrades:
You may also be interested in...
If you would like to make a correction related to this activity...let us know