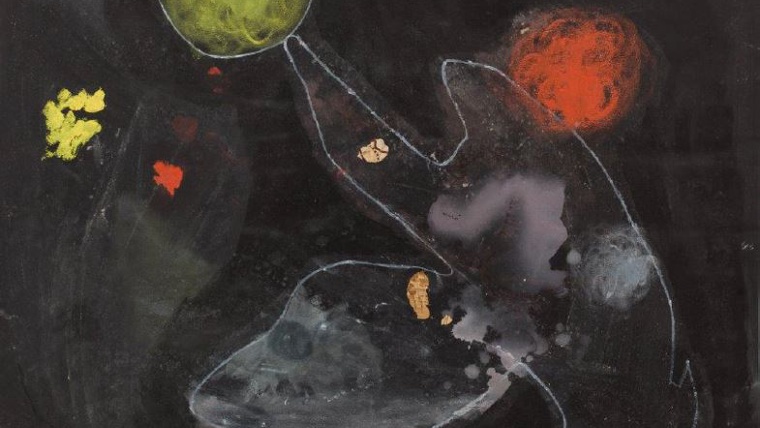 Exhibitions. We discover a little-known side of Miró, as a collector of his own work.
The exhibition Miró. His Most Intimate Legacy at the Fundació Joan Miró offers a more personal view of Joan Miró, who over the years set aside pieces, drawings and sketches that would enable him to keep an emotional narrative with his work and would serve as means for him to review his career and artistic development.
This practice extended to the pieces reserved for his wife Pilar Juncosa, and his daughter Dolors Miró, both of whom, in turn, became collectors.
The exhibition showcases some 180 pieces, about 80 of which are by Joan Miró, virtually tracing the artist's entire career from 1910 (when he was 17 years old) through to 1976. It also shows his preparatory drawings, previously unpublished documents and family photographs also included in the exhibition allow the viewer to follow the path from the point when Miró first put together a collection of his own - eventually extended to this family as well - to the time when he sought to make his thinking and his legacy accessible to all by creating the Fundació Joan Miró, a unique space and collection that the artist donated to the city of Barcelona.
The exhibition invites us to imagine the connections between the pieces on display and the personal, cultural and historical moments in the twentieth century to which Joan Miró, his wife Pilar Juncosa and their daughter Dolors Miró bore witness.
 The public and educational programme that goes with the exhibition offers a series of activities for all audiences, such as visits, activities and workshops, both in person and online. These activities are based around two fundamental concepts: Miró's facet as a collector and the contemporary relevance of his artistic approaches.
Check the programme .
Traductor de

:
Schedule
Days
Hours
Preus

Dimarts, dimecres, dijous, divendres, dissabte i diumenge

de 10.00 h a 18.00 h

Entrada general: 7 €




Reduïda: 5 €

- Majors de 65 anys

- Estudiants (amb carnet de 15 a 30 anys)

- Titulars carnet de Biblioteques




Grups (+ 15 persones):

- adults: 8 €

- adults (+65 anys): 7 €

- estudiants: 6 €

- infantils (fins 14 anys): 2 €




Servei autoguia: 5 €




Gratuït:

- menors 15 anys

- persones a l'atur

- membres ICOM

- 14 de maig (Nit dels Museus: gratuït de 19 a 01 h)

- 18 de maig (Dia Internacional dels Museus)
Comissari: Marko Daniel, amb la col·laboració d'Elena Escolar i Dolors Rodriguez Roig. Amb la col·laboració de la Fundació Banc Sabadell.
Aquesta exposició ens descobreix una faceta poc coneguda de Miró, la de col·leccionista de la seva pròpia obra, que es va traduir en la creació de tres col·leccions personals: la seva, la de Pilar i la de Dolors. El projecte vol retre homenatge i ser un agraïment tant a l'artista com a les tres generacions de la família Miró que segueixen estant al capdavant d'aquest compromís de l'artista universal amb la Fundació Joan Miró i amb la ciutat de Barcelona.
Miró. El llegat més íntim presenta part de les obres del nou dipòsit de 59 peces que la família Miró ha fet a la Fundació, juntament amb les obres que Pilar Juncosa, Dolors Miró Juncosa i la resta de la família han donat o dipositat a la Fundació, gràcies a les quals Barcelona pot presentar la col·lecció pública més important del món d'obra d'aquest artista.
Les obres exposades recorren pràcticament tota la seva vida artística, entre 1910 ―quan Miró tenia 17 anys― i 1976, de manera que es reforça significativament el discurs de la Col·lecció. El nou fons remet al Miró més personal, el que obsequiava amb una obra la seva esposa («appartenant à Pilar») i la seva filla, Dolors Miró («appartenant à Mlle. Dolores Miró»), i així les feia propietàries i col·leccionistes al seu torn. Aquesta estima i generositat es va perpetuar al llarg del temps amb els nets, David, Emili, Joan i Teo, a qui l'artista també va regalar obra.
L'exposició presenta gairebé una vuitantena d'obres de Joan Miró amb què es pot recórrer el camí que va de la creació d'una col·lecció pròpia ―que amb el temps esdevé familiar― fins al llegat a la Fundació Joan Miró, un espai i una col·lecció únics que l'artista dona a la ciutat de Barcelona.
Address:

Avinguda de Miramar, 1

District:

Sants-Montjuïc

Neighborhood:

el Poble-sec

City:

Barcelona
When

From 01/04/2022 to 26/09/2022
Website
If you would like to make a correction related to this activity...let us know