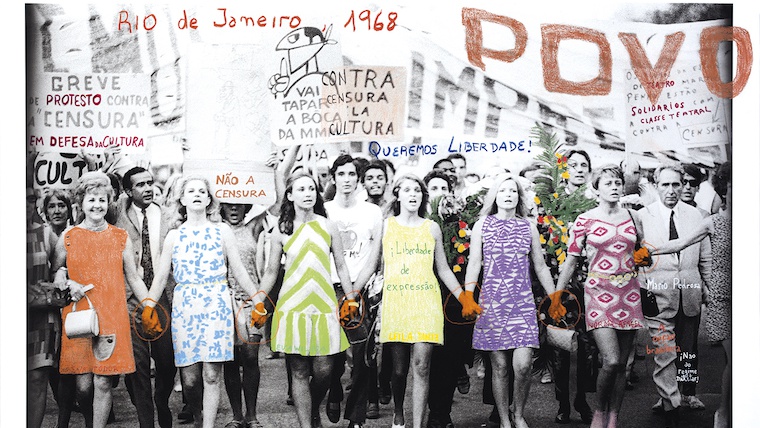 Photography. Foto Colectania features some of the artist and activist's best-known series.
Born in Argentina, Marcelo Brodsky went into exile in Spain during the Argentinian military dictatorship of the 1970s and 1980s. His work combines images and interventions with colour and text, lying somewhere between photography, installation, performance and memorial.
The exhibition on at the Foto Colectania features some of his best-known work: it starts with a selection of five photos made during his exile Barcelona up to the end of the 1970s and a section dedicated to his Buena Memoria project, where he investigated the consequences of the Argentinian dictatorship on his schoolmates. This work would become one of the points of departure for his interventions with text and colour on photos that he would apply to his later projects.
Other series on display include his iconic 1968. The fire of ideas showing the movements unleashed all around the world in 1968, the photos of the struggle against Francoism and Apartheid in South Africa (which he took at the side of the photographer Gideon Mendel), the powerful Rastres de violència / Traces of violence, revealing the first genocide in history through colonialist photographs from the German Empire in what is today Namibia and finally, Aturada Nacional / National Strike on the recent revolts in Colombia in 2021.
Traductor de

:
Schedule
Days
Hours
Preus

Dimecres, dijous, divendres i dissabte

d'11.00 h a 14.30 h i
de 16.00 h a 20.00 h

Entrada general: 5 €




Reduïda: 3 €

- Estudiants

- Majors 65 anys

- Membres del TresC

- Subscriptors La Vanguardia

- Docents

- Carnet de Biblioteques

- Associacions de Fotògrafs

- Carnet Jove

- Targeta client Laie




Gratuït:

- 1r diumenge de mes

- Amics i socis de Foto Colectania

- 13 de febrer (Santa Eulàlia)

- Alumnes de les escoles amigues

- Premsa

- Membres de l'ICOM

- Aturats

- Discapacitats

- Menors de 14 anys




Entrada compartida amb KBr Fundació MAPFRE: 8 €

diumenges

d'11:00 h a 15:00 h
La Fundació Foto Colectania, gràcies a la col·laboració principal de la Fundació Banc Sabadell, presenta el 2 de febrer l'exposició Marcelo Brodsky. Resistència poètica, comissariada per Irene de Mendoza.
Nascut a l'Argentina, Marcelo Brodsky es va exiliar a Espanya durant la dictadura militar argentina dels anys 70 i 80. La seva obra combina imatges i intervencions amb color i text, situant-se entre la fotografia, la instal·lació, la performance i el memorial.
L'exposició que es presenta a Foto Colectania reuneix algunes de les seves sèries més conegudes: comença amb una selecció de cinc fotografies realitzades durant el seu exili a la fi dels anys 70 a Barcelona i una secció dedicada al seu projecte Bona Memòria, a la qual investiga les conseqüències de la dictadura argentina sobre els seus companys de col·legi. Aquesta obra es convertiria en un dels punts de partida per a les intervencions amb text i color sobre fotografies que aplicarà als seus projectes posteriors.
Altres sèries que s'exposen són la seva emblemàtica 1968. El foc de les idees que mostra els moviments desencadenats a tot el món en 1968, les fotografies de la lluita contra el Franquisme o del Apartheid a Sud-àfrica (que realitza al costat del fotògraf Gideon Mendel), la impactant Rastres de violència, que mostra el primer genocidi de la història a través de les fotografies colonialistes de l'Imperi Alemany a l'actual Namíbia i, finalment, Aturada Nacional sobre les recents revoltes de Colòmbia en 2021.
Address:

Pg Picasso, 14

District:

Ciutat Vella

Neighborhood:

Sant Pere, Santa Caterina i la Ribera

City:

Barcelona
When

From 02/02/2023 to 28/05/2023
Website
You may also be interested in...
If you would like to make a correction related to this activity...let us know