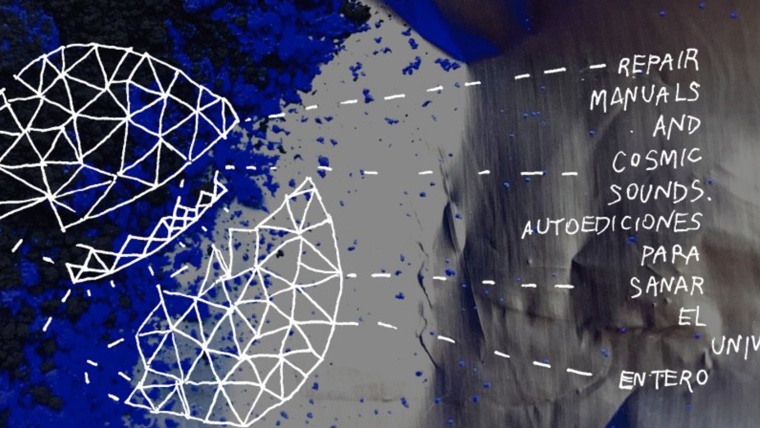 La mostra es fa al Centre d'Estudis i Documentació (CED) del MACBA
Exhibitions. Repair manuals and cosmic sounds
One of the most important concerns we have as a society today is learning how to care for and look after our planet. The Macba presents an exhibition that aims to address these current needs, with an emphasis on the self-management of resources and the climate emergency facing the planet.
Repair manuals and cosmic sounds is an exhibition that takes a look at the past, exploring other possible ways of inhabiting the planet from an ecofeminist and ecosocial alliance, in order to address the urgent matters and needs of the planet in the present.
Traductor de

:
Schedule
| | Days | Hours | Preus | |
| --- | --- | --- | --- | --- |
| | Dilluns, dimecres, dijous i divendres | d'11.00 h a 19.30 h | Entrada Gratuïta | |
| | Dissabte | de 10.00 h a 20.00 h | | |
| | Diumenge i festius | de 10.00 h a 15.00 h | | |
Others
Occur on:

Organised by:
Manuals de reparacions i sons còsmics és una proposta d'exposició expandida que mira al passat de certes maneres d'autoedició col·lectives i experimentals, per atendre les urgències del present al voltant de qüestions com l'autogestió dels recursos i l'emergència climàtica.
La investigació parteix de l'impacte que el treball del difícilment classificable arquitecte, inventor i utopista Buckminster Fuller ha tingut en l'experimentació i en la recerca de formes alternatives d'habitar l'espai i de relacionar-se amb el medi ambient des del "fes-ho tu mateix" i el "més amb menys". Els influxos que aquestes i d'altres teories utòpiques van exercir en el pensament i la creació es poden reconèixer en publicacions com ara Whole Earth Catalog o New Woman's Survival Catalog, dos repertoris de recursos alternatius publicats en els darrers anys de la dècada dels seixanta i primers dels setanta, referents contraculturals i precursors de moltes altres publicacions dedicades a afavorir l'establiment de xarxes de col·laboració alternatives basades en l'autogestió i l'ecologia llibertària feminista. Projectes comunitaris pacifistes com Drop City, The Farm o The Diggers; anarquistes com Provo o Christiania; basats en el disseny i l'arquitectura radicals, com ara Archigram o Ken Isaacs: tots ells van fer ús de les publicacions autoeditades per disseminar de manera independent idees que qüestionen i desafien els interessos del poder establert i proposen el despertar d'una nova vida espiritual al marge del sistema. Però aquests projectes no es van limitar a fer circular les seves idees a través de publicacions en paper, sinó que, amb la voluntat d'experimentació i ampliació de la consciència, i sovint sota la influència de còctels lisèrgics i de l'expansió de l'ús dels sintetitzadors, van fer servir la música com a catalitzador en meditacions sonores i van convertir les pistes de ball en barricades pacifistes i les festes en espais de resistència. Discos com el lloat Plantasia de Mort Garson van utilitzar sintetitzadors per crear música per a plantes i humans, tot promovent una nova relació amb la natura que desactiva la visió antropocèntrica, i es parla de la influència que va tenir el canvi de paradigma que van provocar les primeres fotografies que es van fer del planeta Terra des de l'espai exterior el 1968 en l'aparició de la música ambient.
Address:

Plaça dels Àngels, 1

District:

Ciutat Vella

Neighborhood:

el Raval

City:

Barcelona
When

From 25/11/2021 to 01/02/2022
Phone number
Tel.:

934813368

Tel.:

934120810

Tel.:

934121270

Tel.:

934121413

Fax:

934124602
Website
You may also be interested in...
If you would like to make a correction related to this activity...let us know