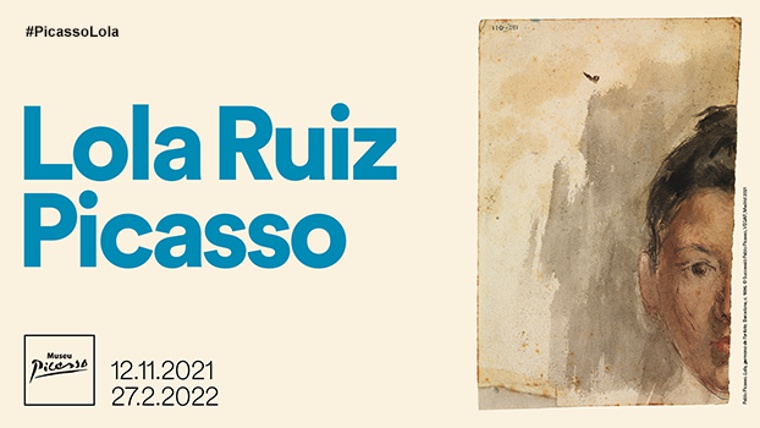 Exhibitions. This exhibition paying homage to Picasso's sister is now on show in Barcelona.
The exhibition pays homage to Lola Ruiz Picasso and her zeal to conserve the works of her brother and also demonstrates the siblings' mutual love throughout their lives.
Picasso had always been very close to his sister (Lola) Ruiz Picasso, especially after the death of little Conchita (1887-1895). Lola was one of Picasso's favourite models when he was a child and teenager, with his first portraits in La Corunya dating back to 1894, and remaining in the artist's iconography until 1900, except during the periods when the artist left the family to study in Madrid or spent time convalescing in Malaga. By the time his blue period had begun in 1901, Lola was no longer included in the artist's symbolist iconography.
After moving to Paris in 1904 Picasso maintained his ties to his family, who remained resident in Barcelona, visiting them on successive trips to that city in 1906, 1909, 1910, 1913, 1917, 1926, 1933 and 1934. They kept up a correspondence during all those years.
Traductor de

:
Schedule
Days
Hours
Preus
Observation

Dimarts, dimecres, dijous, divendres, dissabte, diumenge i festius excepte 24 desembre, 25 desembre, 31 desembre, 1 gener i 5 gener

de 10.00 h a 19.00 h

Entrada general: 6.5 €




Reduïda (caldrà acreditar la condició): 4,50 €

- Persones de 18 a 25 anys

- Persones de 65 anys o més

- Titulars targeta rosa reduïda

- Persones a l'atur

- Titulars del carnet de Biblioteques de Barcelona




Articket: 30 €




Carnet del Museu

- Individual: 15 € (Col·lecció + exposició temporal)




Gratuïta (caldrà acreditar la condició):

- El 1r diumenge de cada mes

- Tots els dijous a partir de les 16 h

- Menors de 18 anys

- Estudiants universitaris

- Titulars targeta rosa gratuïta

- Titulars passi metropolità d'acompanyant d'un discapacitat

- Carnet de l'ICOM

- Professors (reserva imprescindible)

- Els guies turístics en l'exercici de la seva feina

- Els periodistes acreditats

- 12 de febrer (Santa Eulàlia)

Es recomana la compra anticipada de l'entrada

Les entrades a les exposicions es poden comprar on-line

al web del Museu.

El Carnet del Museu permet el lliure accés a tot el museu

sense passar per taquilles, durant un any des de la data

de l'adquisició.

Les visites en grup només amb concertació prèvia per telèfon,

fax o correu electrònic.

Un responsable de grup per cada 10 visitants pot tenir l'entrada gratuïta.




Visites accessibles regulars per a persones amb discapacitats

auditives o visuals i per als seus acompanyants.:

El tercer dijous de cada mes a les 18.30 h.

Amb reserva al telf. 932562997, de dilluns a divendres, de 9 a 14 h.

24 de desembre
31 de desembre

de 10:00 h a 14:00 h

5 de gener

de 10:00 h a 17:00 h
L'exposició dedicada a Lola és un homenatge a Lola Ruiz Picasso i al seu zel en la conservació de l'obra del seu germà, alhora que és una demostració de l'estima que es van professar al llarg de les seves vides. Malén Gual, conservadora del Museu Picasso fins al mes de juny del 2020, és la comissària de la proposta.
Picasso sempre va estar molt unit a la seva germana Dolores (Lola) Ruiz Picasso, sobretot després de la mort de la petita Conchita (1887- 1895). Lola va ser una de les models preferides del Picasso nen i adolescent, datant els seus primers retrats a La Corunya, l'any 1894, i mantenint-se en la iconografia de l'artista fins el 1900, exceptuant els períodes en què l'artista s'allunya de la seva família per estudiar a Madrid o per passar convalescència a Màlaga. Quan inicia l'època blava el 1901, Lola deixa de tenir cabuda a la iconografia simbolista de l'artista.
En instal·lar-se a París l'any 1904 Picasso va mantenir els lligams amb la seva família, que va restar sempre a Barcelona, i els va visitar en els seus successius viatges a la ciutat els anys 1906, 1909, 1910, 1913, 1917, 1926, 1933 i 1934. Des de la distància van mantenir una relació epistolar.
Address:

Carrer de Montcada, 15 - 23

District:

Ciutat Vella

Neighborhood:

Sant Pere, Santa Caterina i la Ribera

City:

Barcelona
Where
When

From 12/11/2021 to 27/02/2022
Phone number
Switchboard:

93 256 30 00

Reservations:

93 256 30 22

Fax:

933150102
Website
Web venda d'entrades:
You may also be interested in...
If you would like to make a correction related to this activity...let us know