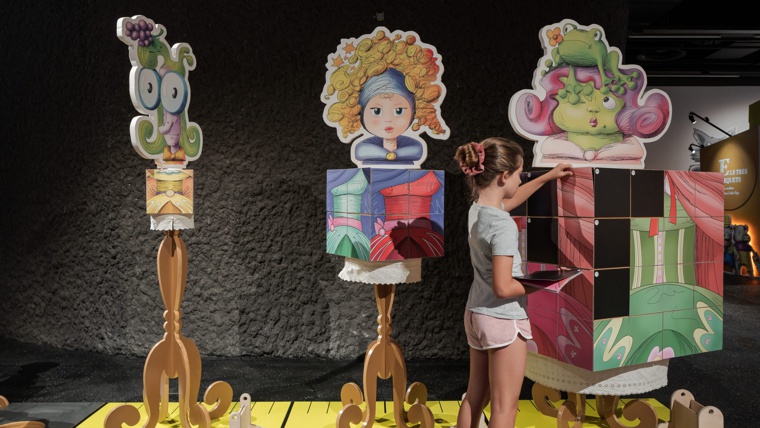 Science and tales. An exhibition that shows us the hidden science behind the classics of children's literature.
Science is everywhere: in the Enchanted Forest, in Hansel and Gretel's gingerbread house, in the Wicked Witch's mirror or in a beanstalk that keeps on growing until it touches a giant's nose.
'Hi havia una vegada...' [Once upon a time] is a science and technology exhibition based on the magical stories of ten classic tales from children's literature, exploring phenomena and concepts of the social and natural sciences, such as physics, chemistry, mathematics, geology and biology and relating them to our reality.
Cinderella, Little Red Riding Hood, Pinocchio, Alice in Wonderland and Ali Baba and the Forty Thieves jump out of their books to tell us everything about the science behind children's tales. Offering a multitude of interactive modules, the exhibition is based on ten giant books organised around a forest full of surprises for exploring and listening to traditional tales.
You'll be able to discover the secrets of cocoa in a chocolate factory, teach a recalcitrant Pinocchio, build the three pigs' house and see if it can resist the wolf's huffing and puffing, decipher the code for entering the forty thieves' cave and visit a room where you'll grow and shrink.
Schedule
Days
Hours
Preus

Dimarts, dimecres, dijous, divendres i dissabte

de 10.00 h a 19.00 h

Entrada general: 6.5 €

Menors de 16 anys gratuït




Reduïda: 4,50 €




Combinada Exposició permanent + 'Hi havia una vegada..': 10,50 €

Diumenge i festius

de 10.00 h a 20.00 h

Dilluns, 25 desembre i
1 gener
Hi havia una vegada…. Ciència i contes
La ciència és a tot arreu: al Bosc Encantat, a la casa de xocolata d'en Hansel i la Gretel, al mirall de la Bruixa Malvada o en una tija de mongetes que creix sense parar fins que toca el nas d'un gegant.
Us presentem una exposició de ciència i tecnologia que parteix de les històries màgiques de deu contes clàssics de la literatura infantil, explora fenòmens i conceptes de les ciències socials i naturals, com ara la física, la química, les matemàtiques, la geologia i la biologia, i els relaciona amb la nostra realitat.
Ventafocs, Caputxeta Vermella, Pinotxo, Alícia o Ali Baba i els quaranta lladres salten dels llibres per explicar-nos tot sobre la ciència darrere dels relats infantils. Amb multitud de mòduls interactius, l'exposició es desenvolupa en deu llibres gegants organitzats al voltant d'un bosc ple de sorpreses on explorar i escoltar els contes tradicionals.
Podràs descobrir els secrets del cacau en una fàbrica de xocolata, ensenyar a un desobedient Pinotxo, construir la casa dels tres porquets i veure si resisteix la bufada del llop, desxifrar el codi per entrar a la cova dels quaranta lladres o visitar una habitació on creixes i encongeixes.
Address:

Plaça de Leonardo da Vinci, 4*5

District:

Sant Martí

Neighborhood:

el Besòs i el Maresme

City:

Barcelona
When

From 01/07/2022 to 07/01/2024
You may also be interested in...
If you would like to make a correction related to this activity...let us know