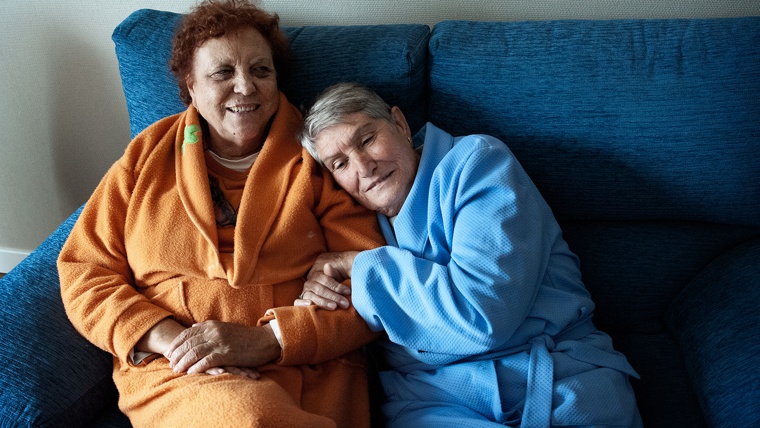 "People like us, over the age of 60, may not have experienced the Civil War but we did live through the post-war period and the Franco dictatorship, lack of freedoms and lack of education in an open and relaxed environment. We now find ourselves in a closet we can come out of again. I have a wife, but if one day I had to be taken into a third-age residence, would I be free to express my emotional life in that environment?" (Paulina, a married lesbian).
The photojournalist Hanna Jarzebek brings her work to the LGBTI for the second time. This time she offers us a photographic project on the sexuality of elderly LGBTI people. The sexual orientation of this collective is a taboo subject and heterosexuality, in many contexts, is taken for granted: a gay grandfather or lesbian grandmother simply does not exist. They become invisible.
This documentary project shows LGBTI individuals sharing their stories and fears over what they face in their autumn years of life. The images invite us, in the face of stereotypes, to reflect on nearby and often-ignored realities.
The work was carried out under the 9th Photography and Society Scholarship awarded by UNZIP Arts Visual Al Prat and with support from Barcelona City Council.
Free admission
Traductor de

:
Schedule
Days
Hours
Preus

Dilluns

de 16.00 h a 20.00 h

Entrada Gratuïta

Dimarts, dimecres, dijous i divendres

de 10.00 h a 14.00 h i
de 16.00 h a 20.00 h
La fotoperiodista Hanna Jarzabek porta el seu treball al Centre LGTBI per segona vegada. En aquesta ocasió, ens apropa un projecte fotogràfic sobre la sexualitat de les persones grans LGTBI. L'orientació sexual d'aquest col·lectiu és un tema tabú i l'heterosexualitat, en molts contextos, es dona per feta: un avi gai o una àvia lesbiana, senzillament, no existeix. Es converteix en invisible.
Address:

Carrer del Comte Borrell, 22

District:

Eixample

Neighborhood:

Sant Antoni

City:

Barcelona
When

From 11/10/2021 to 31/01/2022
Phone number
Tel.:

93 880 51 11
Website
E-mail
E-mail:

info@centrelgtbibcn.org
You may also be interested in...
If you would like to make a correction related to this activity...let us know