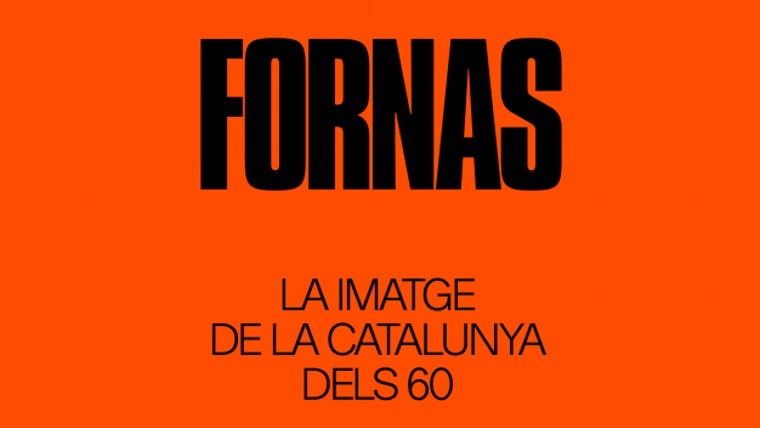 Exhibitions. An exhibition on one of the most outstanding graphic designers in Catalan culture from the 1960s.
The Museu del Disseny is offering a retrospective exhibition on the graphic artist, painter, photographer and sculptor Jordi Fornas, whose book and record designs helped shape the cultural renaissance of the 1960s.
Trained at the Escola de Belles Arts Sant Jordi in Barcelona, Jordi Fornas was fully committed to pictorial and artistic production. He began receiving personal commissions in the early 1960s and put painting aside to devote himself entirely to graphic design. He gained considerable prestige and recognition in this sphere, becoming the author of the design of some of the most important modern pillars of the cultural renaissance of the second half of the 20th century and giving graphic identity to the new mass culture in Catalan which developed at that time in Catalonia.
Fornas's graphic work was influenced by British pop-art aesthetics, the Swiss school and, above all, French graphics of the 1950s. The mixture of all these influences is expressed in the resources and uses making up one of the cornerstones of what we call the Fornas style.
Responsible for the graphic image of the new Edicions 62, the beginnings of the Gran Enciclopèdia Catalana, the magazine 'Serra d'Or' and the record label Edigsa, Fornas achieved an innovative graphic design combined with his own photos, a key part of the European modernity of the time. His most iconic and recognised designs include the crime novel collection 'La cua de palla', directed by Manuel de Pedrolo.
Traductor de

:
Schedule
Days
Hours
Preus

Dimarts, dimecres, dijous, divendres, dissabte i diumenge excepte 1 maig i 24 juny

de 10.00 h a 20.00 h

Entrada general: 6 €

El preu inclou la visita a les exposicions permanents




Entrada reduïda: 4 €




Entrada gratuïta:

· Diumenge a la tarda, de 15 a 20 h

. Cada primer diumenge de mes

. 14 de maig (Nit dels Museus de 19 a 01 h)

. Menors de 16 anys

. Posseïdors de la Targeta Rosa gratuïta

. Membres de l'ICOM (International Council of Museums)

. Membres de l'Associació de Museòlegs de Catalunya

. Guies turístics professionals

. Professors d'ensenyament reglat acreditats per la direcció del centre educatiu

. Professors d'ensenyament reglat quan acompanyin un grup d'estudiants

. Persones que disposin del passi metropolità d'acompanyant de persones amb discapacitat

. Periodistes degudament acreditats

. Posseïdors de la targeta Barcelona Card

. Persones inscrites al Gaudir Més
Als anys seixanta, es va posar en marxa una indústria cultural a Catalunya que pretenia recuperar la presència dins la societat catalana, perduda i silenciada pel règim franquista des del final de la Guerra Civil. La cultura catalana va deixar d'estar a la defensiva i va passa a adoptar, clarament, unes actituds més creatives i dinàmiques. Aquesta reacció es volia fer evident no sols amb el contingut, sinó també a través de la imatge.
Jordi Fornas i Martínez (Barcelona, 1927-2011), format a l'Escola de Belles Arts Sant Jordi de Barcelona, es va dedicar plenament a la producció pictòrica i artística. A principis dels anys seixanta, va començar a tenir encàrrecs a títol personal i va deixar de banda la pintura per dedicar-se plenament al disseny gràfic. Va ser artífex del disseny d'alguns dels pilars moderns més importants del renaixement cultural de la segona meitat del segle XX i va donar identitat gràfica a la nova cultura de masses en català que es va desenvolupar a Catalunya.
La seva obra gràfica beu de l' estètica pop britànica, del disseny de l'escola suïssa i, especialment, de la gràfica francesa dels anys cinquanta. La mescla de totes aquestes influències es veu plasmada en recursos i usos que componen un dels puntals del que anomenem estil Fornas.
COMISSARI: Pau Llop
Address:

Plaça de les Glòries Catalanes, 37*38

District:

Sant Martí

Neighborhood:

el Parc i la Llacuna del Poblenou

City:

Barcelona
When

From 08/04/2022 to 24/07/2022
Website
You may also be interested in...
If you would like to make a correction related to this activity...let us know