Traductor de

: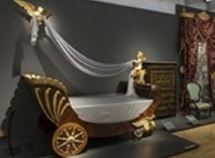 Aquesta exposició proposa un recorregut cronològic, del segle III al segle XX, entre les diverses col·leccions, conservades al museu, de ceràmica, teixits, mobiliari, vidres, miniatures, rellotges, paper pintats i altres objectes. Aquesta disposició destaca el valor de les col·leccions alhora que permet establir diferents relacions entre elles.
Al llarg del recorregut una trentena de peces singulars per diferents motius, que constitueixen un repàs sintètic i lliure de la història de les arts decoratives a Catalunya, hi estableixen un diàleg. D'altra banda, algunes de les col·leccions i les peces exposades han estat molts anys allunyades del públic.
En arribar al primer terç del segle XX, l´exposició s´introdueix en les anomenades arts d´autor, com el vidre, la ceràmica, l´esmalt i la joieria, creacions amb nom propi i majoritàriament d´artistes catalans.
Resultat de donacions i adquisicions a ciutadans, col·leccionistes i artistes, aquesta exposició esdevé així un homenatge al col·leccionisme que ha contribuït a configurar el gran patrimoni artístic de Barcelona.
Schedule
Days
Hours
Preus

De dimarts a divendres

de 15:00 h a 20:00 h

Entrada general de: 6 €

Entrada reduïda: 4 €

Entrada gratuïta:
· Diumenge a la tarda, de 15 a 20 h
· Cada primer diumenge de mes
· 12 de febrer (Santa Eulàlia)
· 24 de setembre (Mare de Déu de la Mercè
· Menors de 16 anys
· Posseïdors de la Targeta Rosa gratuïta
· Membres de l'ICOM (International Council of Museums)
· Membres de l'Associació de Museòlegs de Catalunya
· Guies turístics professionals
· Professors d'ensenyament reglat acreditats per la direcció del centre educatiu Professors d'ensenyament reglat quan acompanyin un grup d'estudiants
· Persones que disposin del passi metropolità d'acompanyant de persones amb discapacitat
· Periodistes degudament acreditats
· Posseïdors de la targeta Barcelona Card
· Persones inscrites al Gaudir Més

dissabtes i diumenges

de 10:00 h a 14:00 h i
de 15:00 h a 20:00 h
Others
Occur on:

Tickets sold at:
Address:

Plaça de les Glòries Catalanes, 37*38

District:

Sant Martí

Neighborhood:

el Parc i la Llacuna del Poblenou

City:

Barcelona
When

Permanent event
Website
E-mail
E-mail:

museudeldisseny@bcn.cat
Social networks
Facebook:

Twitter:
You may also be interested in...
If you would like to make a correction related to this activity...let us know