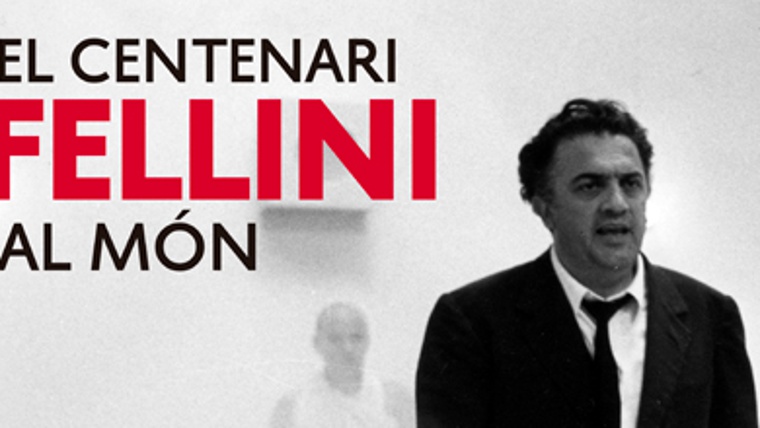 Exhibitions. A stroll through the dream-world of the film-maker and his most intimate sides.
More than twenty years after his death,  Federico Fellini 's fame lives on to this day. He is hugely famous worldwide  and his name continues to stir people's interest. He is a benchmark who changed our approach to the seventh art through his own personal imagery. 
This exhibition lets visitors immerse themselves in the film-maker's dream world and discover the man at his most intimate, beyond his films.
Federico Fellini is a universal figure who made an enormous contribution to cinematic history: first as a script-writer and later as a director, he created a gallery of entertaining and passionate characters.  His film language helped to raise Italy's international profile, turning him into a central figure in 20th-century European culture, leaving behind a legacy that is part of our collective memory.
The exhibition feature much of the material that was either produced by or linked to Fellini - a task of systematic compilation involving public archives and collectors. Original posters from his films, hoardings, scripts, contracts, letters, more than 80 photos of sets and his private life,  atrezzo, costumes and more than 50 personal sketches highlight the eclecticism and versatility of this great director, features that have turned him into a legend.
Traductor de

:
Schedule
Period
Days
Hours
Preus

De l'1 octubre al 31 octubre

De dimarts a diumenge i festius

de 10:00 h a 20:00 h

Entrada Gratuïta

De l'1 novembre al 9 gener

De dimarts a dissabtes

de 10:00 h a 19:00 h

diumenges i festius
excepte 25 de desembre
26 de desembre
1 de gener

de 10:00 h a 20:00 h

26 de desembre

de 10:00 h a 14:30 h
Més de vint anys després de la seva mort, la fama de Federico Fellini continua viva. La seva notorietat al món és enorme i la seva figura segueix despertant interès. És un referent que, des d'un imaginari propi, va canviar la nostra mirada cap al setè art. Coorganitzada per l'Istituto Italiano di Cultura a Barcelona i El Born CCM, la mostra permet al visitant submergir-se en el món oníric de l'autor i conèixer-lo en la seva vessant més íntima, més enllà de la seva filmografia.
Federico Fellini és una figura universal que ha contribuït de manera molt significativa a la història del cinema: primer com a guionista i després com a director, va crear una galeria de personatges divertits i apassionats. A través del llenguatge del cinema, també va contribuir a donar una imatge internacional d'Itàlia, el que el converteix en una figura cabdal de la cultura europea de la segona meitat del segle XX i el seu llegat ha passat a formar part de la nostra memòria col·lectiva.
La mostra aplega gran part del material que Fellini va produir o que està relacionat amb ell -una tasca de recopilació sistemàtica en la qual han participat arxius i col·leccionistes públics i privats. Cartells originals de les seves pel·lícules, cartelleres, guions, contractes, cartes, més de 80 fotografies de plató i de la seva vida privada, atrezzo, vestuari i més de 50 dibuixos personals ressalten l'eclecticisme i la versatilitat d'aquest gran director, característiques que l'han elevat a rang de mite.
Address:

Plaça Comercial, 12

District:

Ciutat Vella

Neighborhood:

Sant Pere, Santa Caterina i la Ribera

City:

Barcelona
When

From 01/10/2021 to 09/01/2022
Phone number
Tel.:

93 256 68 51
Website
You may also be interested in...
If you would like to make a correction related to this activity...let us know