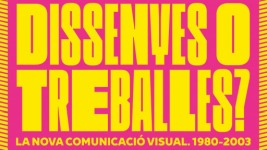 Les dècades de 1980 i 1990 van ser un moment estel·lar per al disseny gràfic.
Després de la mort de Franco, amb la integració plena a Europa i l´establiment de la democràcia, els dissenyadors van tenir l´oportunitat de participar en un procés de creació i transformació de la imatge de les institucions públiques, les organitzacions privades i les empreses.
Va ser una època de vitalitat extraordinària, d´eufòria i celebració, descrita com «el boom del disseny». Alimentat en gran manera pel suport institucional i els mitjans de comunicació, aquest boom ens va deixar una expressió que es va fer cèlebre i que reflectia la seva popularitat: «Dissenyes o treballes?». Però els dissenyadors gràfics, lluny de tota frivolització, dissenyaven i treballaven intensament, com es pot comprovar si s´analitza aquell moment, en què el disseny va començar a tenir més presència social.
Amb la irrupció de l´ordinador Macintosh i l´arribada del nou mil·lenni van sorgir noves perspectives i especialitats. Els nostres dissenyadors gràfics van aconseguir consolidar-se i projectar-se internacionalment mentre començaven a enfrontar-se amb nous reptes, com el de la sostenibilitat, la sobrecàrrega informativa o el creixent multiculturalisme de les nostres societats.
Schedule
Days
Hours
Preus

De dimarts a divendres

de 15:00 h a 20:00 h

Entrada general de: 6 €

Entrada reduïda: 4 €

Entrada gratuïta:
· Diumenge a la tarda, de 15 a 20 h
· Cada primer diumenge de mes
· 12 de febrer (Santa Eulàlia)
· 24 de setembre (Mare de Déu de la Mercè
· Menors de 16 anys
· Posseïdors de la Targeta Rosa gratuïta
· Membres de l'ICOM (International Council of Museums)
· Membres de l'Associació de Museòlegs de Catalunya
· Guies turístics professionals
· Professors d'ensenyament reglat acreditats per la direcció del centre educatiu Professors d'ensenyament reglat quan acompanyin un grup d'estudiants
· Persones que disposin del passi metropolità d'acompanyant de persones amb discapacitat
· Periodistes degudament acreditats
· Posseïdors de la targeta Barcelona Card
· Persones inscrites al Gaudir Més

dissabtes i diumenges

de 10:00 h a 14:00 h i
de 15:00 h a 20:00 h
Others
Occur on:

Tickets sold at:
Address:

Plaça de les Glòries Catalanes, 37*38

District:

Sant Martí

Neighborhood:

el Parc i la Llacuna del Poblenou

City:

Barcelona
When

Permanent event
Website
E-mail
E-mail:

museudeldisseny@bcn.cat
Social networks
You may also be interested in...
If you would like to make a correction related to this activity...let us know