Traductor de

: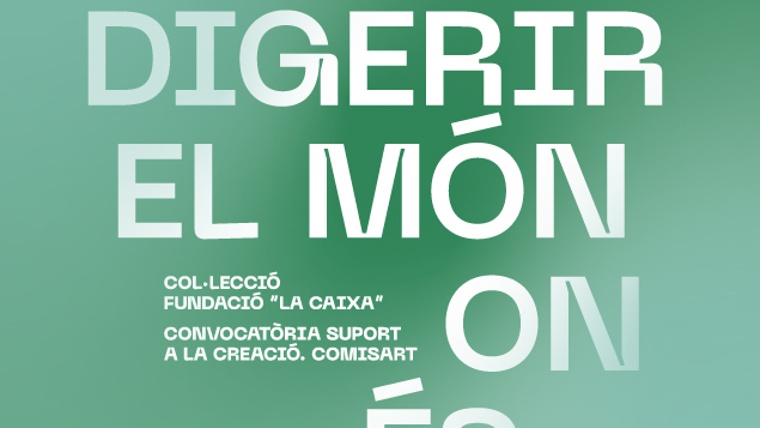 L'exposició Digerir el món on reivindica la necessitat de replantejar-nos i repensar-nos com a espècie animal i situar-nos en una xarxa interespècies per així crear un sistema de col·laboració entre els éssers humans i la resta d'organismes dels ecosistemes que habitem. La proposta de l'exposició s'inspira en la manera com els fongs estableixen relacions simbiòtiques amb altres espècies i amb la terra.
Entre pintura, escultura, dibuix, instal·lació, obra tèxtil i material audiovisual, inclou 18 obres de 12 artistes: Gabriel Alonso, Inês Neto dos Santos, Eva Lootz, Sue Williams, Tacita Dean, Victoria Civera, Teresa Lanceta, Charo Pradas, Eva Fàbregas, Mónica Fuster i Nicholas Woods, Menchu Lamas i Mariana Silva.
Schedule
Days
Hours
Preus

Tots el dies i festius

de 10:00 h a 20:00 h

Entrada general: 6 €

(inclou totes les exposicions del centre)




Entrada reduïda 25% descompte:

. Carnet Família Nombrosa




Entrada gratuïta:

. Clients de CaixaBank

(s'ha de presentar qualsevol targeta de CaixaBank)

. Fins els 16 anys

. Docents

. Premsa

. Persones amb discapacitat i acompanyants

. BCN Card

. ICOM

. Carnet Jove

. 24 de setembre (la Mercè)
Address:

Avinguda de Francesc Ferrer i Guàrdia, 6*8

District:

Sants-Montjuïc

Neighborhood:

la Font de la Guatlla

City:

Barcelona
When

From 20/07/2022 to 30/10/2022
Website
E-mail
E-mail:

icaixaforumbcn@magmacultura.net
You may also be interested in...
If you would like to make a correction related to this activity...let us know