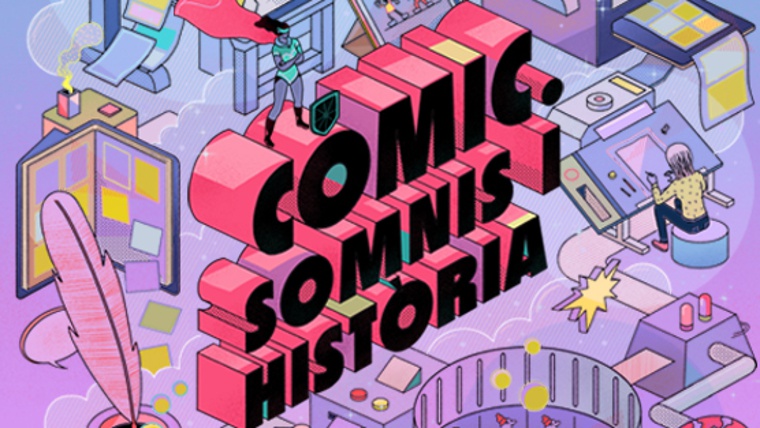 Comics. The exhibition offers a route around some of the finest comics in history, delving into the comic production process.
This exhibition approaches comics as a tool for thinking and a medium capable of bringing the cut of discontinuity into the logic of the stories. Throughout the 20th century and up to the present, comics have constituted a mirror of reality capable of capturing changes in society and to models of imagination. Comics, by the same token, have also provided an incentive to these changes and contributed substantive predictions, as can be seen in the exhibition's approach to works by authors such as George Herriman, Milton Caniff and Jean Giraud (Moebius).
The exhibition Comic. Dreams and History includes works from some of the most famous individuals and comics, such as Richard Felton Outcault's The Yellow Kid, Winsor McCay's Little Nemo in Slumberland, Milton Caniff's Terry and the Pirates, Hergé's Tintín, Alex Raymond's Flash Gordon, Will Eisner's The Spirit, Frank Miller's Sin City, John Romita's The Amazing Spider-man, Dave Gibbons and Alan Moore's Watchmen, Moebius's Arzach and Hugo Pratt's Corto Maltese. These works also enter into a dialogue with a selection of works by Spanish authors.
Traductor de

:
Schedule
Days
Hours
Preus

Tots el dies i festius excepte 24 desembre, 25 desembre, 31 desembre, 1 gener, 5 gener i 6 gener

de 10:00 h a 20:00 h

Entrada general: 6 €




Entrada gratuïta:

. Clients de CaixaBank (s'ha de presentar qualsevol targeta de CaixaBank)

. Menors fins els 16 anys

24 desembre,
31 desembre i
5 gener

de 10:00 h a 18:00 h
El sector del còmic és considerat el novè art i té una llarga tradició en el mercat de l'art.
Aquesta exposició proposa un recorregut per alguns dels millors còmics de la història i aprofundeix en el procés de producció del còmic, des de la conceptualització i el dibuix fins a la impressió final de l'obra.
Aquesta exposició s'acosta al còmic com a eina de pensament i com a mitjà capaç d'intercalar el tall de discontinuïtat en les lògiques de les històries. Al llarg del segle xx i fins a arribar a l'actualitat, el còmic ha constituït un mirall de la realitat capaç de captar els canvis a la societat i els models d'imaginació. Alhora, el còmic també ha estat un incentiu d'aquests canvis i ha aportat anticipacions substantives, com mostra l'aproximació a l'obra d'autors com ara George Herriman, Milton Caniff i Jean Giraud (Moebius) en aquesta exposició.
La mostra inclou obres d'alguns dels persones o còmics més cèlebres, com per exemple The Yellow Kid, de Richard Felton Outcault, Little Nemo in Slumberland, de Winsor McCay, Terry and the Pirates, de Milton Caniff, Tintín, d'Hergé, Flash Gordon, d'Alex Raymond, The Spirit, de Will Eisner, Sin City, de Frank Miller, The Amazing Spider-man, de John Romita, Watchmen, de Dave Gibbons i Alan Moore, Arzach, de Moebius, i Corto Maltés, d'Hugo Pratt, entre d'altres. A més, aquestes obres dialoguen amb una selecció d'obres d'autors nacionals.
Address:

Avinguda de Francesc Ferrer i Guàrdia, 6*8

District:

Sants-Montjuïc

Neighborhood:

la Font de la Guatlla

City:

Barcelona
When

From 29/09/2022 to 15/01/2023
Website
E-mail
E-mail:

icaixaforumbcn@magmacultura.net
You may also be interested in...
If you would like to make a correction related to this activity...let us know