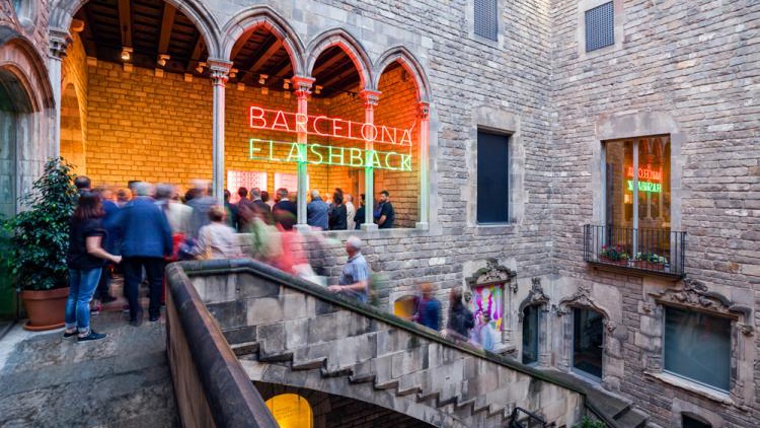 Barcelona Flashback. Síntesi històrica és l'exposició nuclear de la xarxa d'espais que conformen el MUHBA situada a la Casa Padellàs, amb una proposta flexible, oberta i interrogativa sobre els relats urbans de Barcelona.
Una exposició experimental de síntesi, en renovació constant, que mostra la trajectòria bimil·lenària de Barcelona amb un mètode de lectura històrica interrogativa de documents, objectes, arquitectures i paisatges. És, alhora, un projecte de recerca internacional sobre el kit mínim de coneixement i representació urbana per exercir el dret a la ciutat.
La mostra es basa en les col·leccions del MUHBA i és el punt de partida de les 55 sales del Museu en les seves 19 seus distribuïdes per Barcelona.
Hi entreu pel mirall, com en el somni d'Alícia imaginat per Lewis Carroll, i en podreu sortir pel túnel del temps.
Amb aquesta exposició, el MUHBA s'afegeix als museus de ciutat europeus que estan assumint el repte d'oferir una síntesi de qualitat i mostrar, en clau interrogativa, la metròpoli en no més de 90 minuts. La proposta apunta directament a un canvi radical en la manera de veure i visitar la ciutat.
L'exposició tenia un centenar d'objectes en la seva versió experimental, de 2019 a la de 2021, i en té vora els 200 en la nova versió. Aquesta mostra estable aspira a propiciar l'entrenament metodològic per al coneixement de la ciutat.
Schedule
Days
Hours
Preus

Dimarts, dimecres, dijous, divendres i dissabte

de 10.00 h a 19.00 h

Entrada Gratuïta

(Fins el 18 d'abril de 2023)

Diumenge excepte 1 gener, 1 maig, 24 juny i 25 desembre

de 10.00 h a 20.00 h
Address:

Carrer del Veguer, 2*4

District:

Ciutat Vella

Neighborhood:

el Barri Gòtic

City:

Barcelona
When

From 29/03/2023 to 31/12/2024
Website
You may also be interested in...
If you would like to make a correction related to this activity...let us know