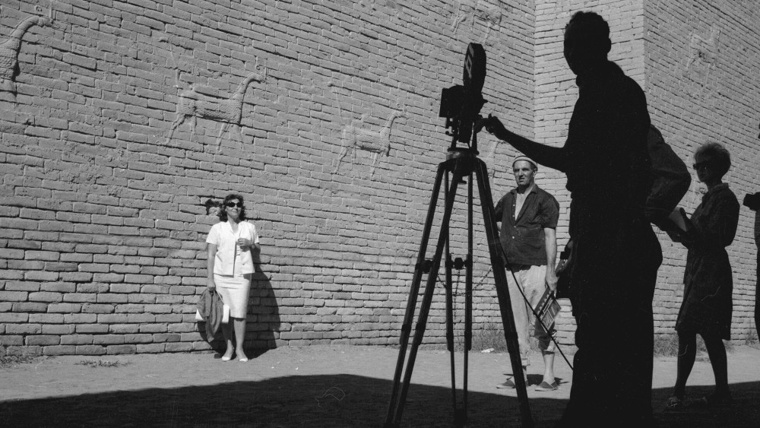 Exhibitions. The most extensive monographic exhibition that has ever been dedicated to the late Iraqi photographer Latif Al-Ani.
After gaining independence from the Ottoman Empire —at the end of the First World War— and the British Empire —after the Second World War—, Latif Al-Ani was not deterred by the tensions in Iraq between a religion set against sacred naturalist images and the tolerance of the Anglican church in regard to icons —similar to the Catholic church—, all at a time when photographic images were disseminated in the graphic press. He was not the first Iraqi photographer —the Ottoman sultans who ruled Iraq were keen on photography—, but he was undoubtedly the most important one.
His photographs portrayed a country, its capital Baghdad and a society which was relatively unaffected by civil wars and invasions, the fall of the monarchy —in 1958—, estrangement from Soviet influence —at the end of the 1980s— and the growing influence of fundamentalism after the Second Gulf War, the subsequent civil war and the terrorism of today.
These are images of a city, a culture and a society that may have only existed in the eyes of the photographer. Latif Al-Ani worked for the Ministry of Information and the Iraqi news agency, for the Iraqi Petroleum Company's illustrated magazine, documenting the industrialisation of the country, sometimes using aerial views, unconnected to reality on the streets, —and the misery that plagued the city—, seeking images that coincided with the dreams and aspirations of a society that achieved independence after centuries of Ottoman and British domination.
Latif Al-Ani portrayed a society that was becoming more urbanised, without forgetting its traditional ways of living and doing things, which were losing ground to the rapid changes taking place. He made use of irony, showing the first affluent foreign tourists, alien to the country, posing in front of ruins from the past, turned into a decoration or a hunting trophy.
When Saddam Hussein came to power, after a series of coup d'etats and assassinations, and the devastating war between Iraq and Iran in 1980, Latif Al-Ani was banned from taking photographs in public places. His name and his work disappeared, along with his archives —and the public archives that conserved the publications illustrated with his photographs — which disappeared during the bombardment of Baghdad in 2003.
However, some were saved, after a donation to the Arab Image Foundation in Beirut, by the Moroccan photographer Yto Barrada, an admirer of Latif Al-Ani.
Latif Al-Ani died in November 2021, but his figure re-emerged after a retrospective exhibition at the Venice Biennale in 2015, revealing an image of Baghdad and Iraq that is often forgotten, or unknown, and breaking away from the image of the city and country we have today.
Traductor de

:
Schedule
| | Days | Hours | Preus | |
| --- | --- | --- | --- | --- |
| | Dimarts, dimecres, dijous, divendres, dissabte, diumenge i festius | d'11.00 h a 20.00 h | Entrada Gratuïta | |
A l'Iraq, després de la independència dels imperis otomà —al final de la Primera Guerra Mundial— i britànic —després de la Segona Guerra Mundial—, les tensions entre la religió contrària a les imatges naturalistes sagrades i la permissivitat icònica de l'anglicanisme —proper al catolicisme—, en uns anys en què la imatge fotogràfica s'estenia per la premsa gràfica, no van aturar Latif Al-Ani. No va ser el primer fotògraf iraquià —els sultans otomans que dominaven l'Iraq eren aficionats a la fotografia—, però segurament va ser el més important.
Les seves fotografies van retratar un país, la capital, Bagdad, i una societat que ja no és a causa de les guerres civils i les invasions, la caiguda de la monarquia —el 1958—, l'allunyament de l'òrbita soviètica —al final de la dècada de 1980— i la deriva integrista després de la Segona Guerra del Golf, la guerra civil subsegüent i el terrorisme actual. Es tractava d'imatges d'una ciutat, una cultura i una societat que potser només van existir en l'ull del fotògraf. Latif Al-Ani va treballar per al Ministeri d'Informació i l'agència de notícies iraquiana, i per a una publicació il·lustrada de la Iraqi Petroleum Company documentant la industrialització del país en unes vistes de vegades aèries, desvinculades de la realitat —i la misèria que assetjava la ciutat—, al nivell del carrer, tot buscant una imatge que coincidís amb els somnis i les aspiracions d'una societat que accedia a la independència després de segles de dominació otomana i britànica.
Latif Al-Ani va retratar una societat que s'urbanitzava, sense obviar el caràcter tradicional de maneres de ser i de fer, que reculaven davant els ràpids canvis que es produïen. Va recórrer a la ironia mostrant els primers turistes estrangers acabalats, aliens al país, posant davant les ruïnes del passat, convertides en un decorat o en un trofeu de caça.
Amb l'arribada de Saddam Hussein al poder, després d'una sèrie de cops d'estat i assassinats, i la devastadora guerra entre l'Iraq i l'Iran el 1980, es va prohibir a Latif Al-Ani fer fotografies a l'espai públic. El seu nom i la seva obra van desaparèixer, així com els seus arxius —i els arxius públics que conservaven les publicacions il·lustrades amb imatges seves—, desapareguts durant el bombardeig de Bagdad el 2003. Alguns, tanmateix, es van salvar després de la donació de la fotògrafa marroquina Yto Barrada, admiradora de Latif Al-Ani, a l'Arab Image Foundation de Beirut. Mort el novembre del 2021, la figura de Latif Al-Ani emergeix des d'una exposició antològica a la Biennal de Venècia el 2015 per revelar una imatge de Bagdad i de l'Iraq sovint oblidada o desconeguda, que trenca la imatge del país i de la ciutat que impera avui.
Address:

C la Rambla, 99

District:

Ciutat Vella

Neighborhood:

el Raval

City:

Barcelona
When

From 29/04/2022 to 10/07/2022
You may also be interested in...
If you would like to make a correction related to this activity...let us know