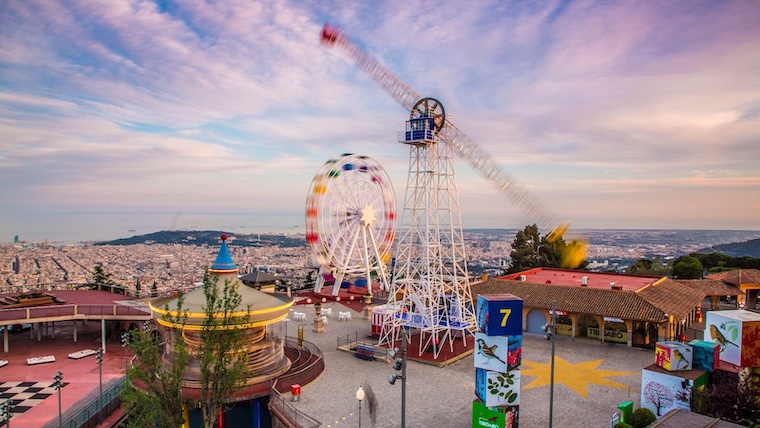 Attractions and shows. A new season gets under way at the park with new features and a revamp to some of its iconic spaces.
New features at the park include the chance of an immersive experience to enjoy along the whole route of the Muntanya Russa rollercoaster. Virtual reality goggles enable users to travel from space to the bottom of the sea, with images created especially for the ride.
As for shows, Geronimo Stilton is back with Geronimo i les lletres enigmàtiques! Other attractions include the Krüeger Hotel, the Tibidabo park mascots and the Marionetarium, which gets the season under way with the travelling show Pallassos de fusta.
For full information check the website for the Tibidabo Amusement Park.
Traductor de

:
Schedule
Days
Hours
Preus

Entrada general: 35 €

(alçada superior a 120 cm)




Entrades reduïdes:

- majors de 60 anys (prèvia acreditació): 10.5 €

- menors de 120 cm d'alçada: 14 €

- persones amb diversitat funcional : 7 €

- Families mombroses o monoparentals (>120 cm)l : 28 €

- Families mombroses o monoparentals (<120 cm)l : 11.20 €




Entrada gratuïta:

- menors de 90 cm

- acompanyants discapacitats

- més grans de 60 anys sense accés a les atraccions i/o espectacles

- Titulars Targeta Rosa




Altres descomptes:




- Registrat a Gaudir+BCN: 28 €

- Carnet de Biblioteques: 28 €

- Carnet Jove: 17,50 €




Tibiclub:

- familiar: 168 € / any (+ 24 € quota inscripció el primer any)

- individual: 60 € / any (+ 24 € quota inscripció el primer any)

-monoparental: 168 € / any (sense quota inscripció el primer any)
Dididado
El Dididado és un cinema en quatre dimensions que et permetrà gaudir d'experiències inèdites amb una tecnologia d'avantguarda. Les quatre dimensions són definides per la suma de la tecnologia visual 3D, la qual s'experimenta amb la visualització a través de les ulleres conegudes amb el mateix nom, més els efectes que permet la quarta dimensió.
Horaris: Obert en horari del Parc d'atraccions. Consulta l'horari fent clic aquí.
Meg and the Lost Sceptre: De 12 h fins a tancament del Parc.
Marionetarium
Al Marionetarium comencem la temporada amb l'espectacle Pallassos de Fusta, el show de la companyia més internacional, i doblement premiat ( Millor Disseny de titelles i Millor Espectacle Visual al Festival de Titelles de Xangai l'any 2013). L'espectacle ha girat per festivals de tot el món a països com Brasil, Turquia, Corea del Sud, Xina, Bulgària, Portugal i Rússia.
Horaris: Caps de setmana i festius a partir de les 13 h.Obert en horari del Parc d'atraccions*. Consulta l'horari fent clic aquí.
Mascotes del Tibidabo
Coneix a les estrelles del Parc d'atraccions Tibidabo i de la Serra de Collserola! En Ti, l'ocell oriol més simpàtic, la Bi, la salamandra més curiosa, la Da, la guineu més extravertida, i en Bo, el porc senglar més golafre, t'esperen amb un show ben divertit.
Horaris
A on? Plaça del Jardí (Àrea Panoràmica)
Krüeger Hotel
Vols viure situacions esgarrifoses? Entra al Krüeger Hotel, únic en el seu gènere, i fes una visita terrorífica per l'interior d'un hotel abandonat. Decorat i ambientat amb uns hostes molt especials, personatges del cinema de terror. Viu moments únics i impactants!
Horaris:: Consulta l'horari del Parc fent clic aquí. Segons l'afluència de visitants, la cua del Krüeger Hotel pot ser tancada abans del fi de l'horari establert.
Restriccions: Edat mínima recomanada: 8 anys.
Address:

Plaça del Tibidabo, 3

District:

Sarrià-Sant Gervasi

Neighborhood:

Vallvidrera, el Tibidabo i les Planes

City:

Barcelona
When

From 04/03/2023 to 31/12/2023
Website
You may also be interested in...
If you would like to make a correction related to this activity...let us know