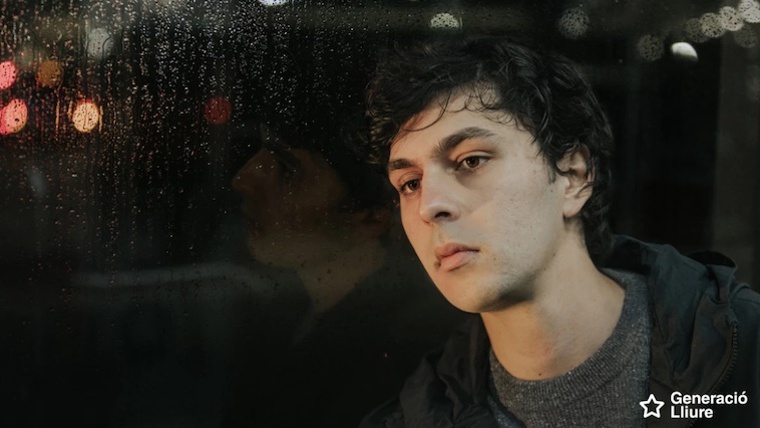 Drama. Illness and death through the eyes of a teenager.
Tot el que passarà a partir d'ara talks of the loss of a father, coinciding with the moment of constructing an identity and discovering the implacable rules of the world.
Memories, projects, difficult conversations and most of all, conversations we can no longer have. Friends, family (what it really means to be a family) and the bottomless abyss of everything that happens from here on.
On stage, a night-time journey through the city, an unexpected race to get there in time, a stormy part of life, but profoundly human and full of light.
Artists
Written by: Joan Yago; Director: Glòria Balañà i Altimira; Performed by: Nil Cardoner; Musicians: Víctor Hugo Ballesteros, Marco Tulio Palacio, Juan Carlos Riaño.
Show in Catalan.
Duration: 1 hour 30 minutes.
Recommended age: 14 and over.
Accessible Fridays: 07/04 adapted subtitles; 14/04 audiodescription.
Traductor de

:
Schedule
Days
Hours
Preus
Observation

Dimecres, dijous i divendres

a les 20.00 h

Entrada general de: 10 a 29 €




Jubilats targeta rosa / Abonats al TNC / Abonats al Mercat de les Flors / Tresc / Biblioteques / Subscriptors de la Vanguardia / Dia de l'espectador: 24.50 €




Persones amb diversitat funcional / famílies nombroses i monoparentals / aturats / menors de 30 anys: 14.50 €




Grups (A partir de 15 persones): 21.50 €




Menors de 14 anys: 10 €




***La venda per telèfon té un cost addicional per gestió: 3 €/entrada.

Dijous 6 d'abril

Col·loqui postfunció

Dissabte

a les 17.00 h

Diumenge

a les 18.00 h
Others
Occur on:

Tickets sold at:
La malaltia i la mort des dels ulls d'un adolescent. La pèrdua d'un pare o una mare coincidint amb el moment de construcció de la identitat i el descobriment de les implacables normes del món. Les converses difícils i, sobretot, les converses que ja no podrem tenir mai. La família; el que significa realment ser família i també l'abisme insondable de tot el que passarà a partir d'ara, de totes les coses que encara falta viure. Dalt de l'escenari, un tros de vida tempestuós però profundament humà per compartir amb la comunitat el relat d'uns personatges enfrontant-se a una situació per la qual, evidentment, no estan preparats.
Aquest espectacle de creació comptarà amb el testimoni de joves, famílies i professionals que coneixen de prop la malaltia i la mort.
Edat recomanada, a partir dels 14 anys
INTÈRPRETS
Repartiment en curs
PRODUCCIÓ
Teatre Lliure
Divendres accessibles
14/04 i 28/04 audiodescripció
21/04 sobretítols adaptats
Address:

C Montseny, 47

District:

Gràcia

Neighborhood:

la Vila de Gràcia

City:

Barcelona
When

From 29/03/2023 to 03/04/2023
Phone number
Ticket sale:

93 228 97 48 de dilluns a divendres de 10 a 20 h

Switchboard:

Tel.:
Website
Web venda d'entrades:
You may also be interested in...
If you would like to make a correction related to this activity...let us know