Traductor de

: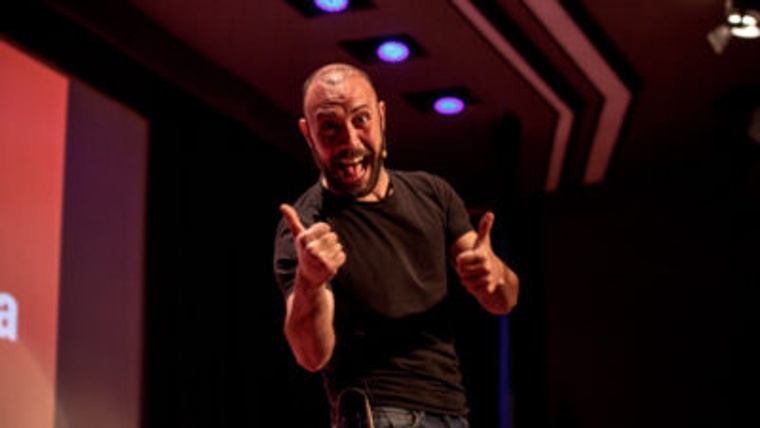 Les apps per a lligar han aconseguit el que fa uns anys semblava impossible: que la gent connecti a través d'una pantalla. Però també han provocat que, quan quedes en persona, et trobis més d'un  Tinder Sorpresa. Anècdotes surrealistes n'hi ha a milers, però segur que no són tan boges com les que explica Andreu Casanova en aquest espectacle. Si ets dels quals ha perdut l'esperança en les aplicacions de ligoteo, després d'escoltar les seves experiències al La9 del Bosque, les esborraràs per sempre.
És igual si cerques a l'amor de la teva vida, nous amics o el que sorgeixi, segur que faràs match amb aquest xou en el qual Andreu Casanova es burla de si mateix, però també de tots nosaltres. Vine al La9 del Bosque i uneix-te al seu safari còmic per la selva de les aplicacions per a lligar. Però, sobretot, prepara't per a riure amb ganes, perquè t'assegurem que aquest és un espectacle mereixedor d'un superlike.
Schedule
Days
Hours
Preus
Observation

Divendres i dissabte

a les 20.15 h

Entrada general: 15 €
(Més despeses de gestió)
Others
Occur on:

Tickets sold at:
Address:

Rambla de Prat, 16*20

District:

Gràcia

Neighborhood:

la Vila de Gràcia

City:

Barcelona
When

From 01/07/2022 to 30/07/2022
Website
Web venda d'entrades:
You may also be interested in...
If you would like to make a correction related to this activity...let us know