Traductor de

: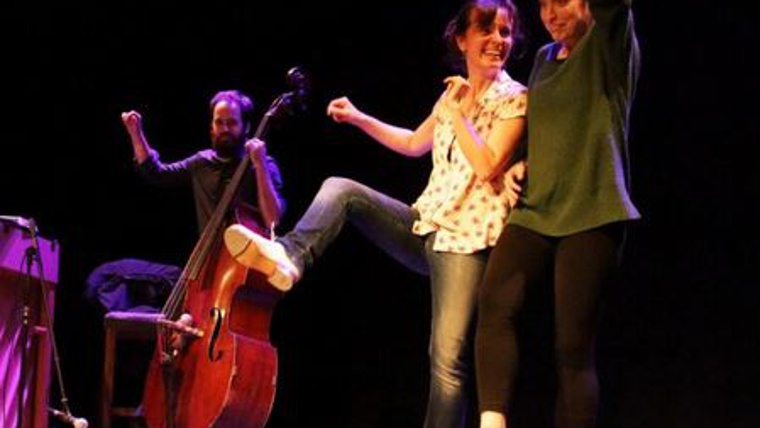 Presentadora Laia Molins
Barcelona és probablement una de les poques ciutats europees amb una Jam estable de claqué, cosa molt habitual a Estats Units. Gràcies a la gran afició i evolució que s'ha creat a la nostra ciutat en l'art de fer ritmes amb els peus, el claqué ha anat creixent i ja fa més de 20 anys que es realitzen aquestes trobades. Espectacle amb ballarins professionals i avançats acompanyats amb músics en directe, on es veu l'art d'improvisar! TAP JAM són sessions de claqué improvisat amb músics en directe. Serveixen perquè els estudiants avançats comencin a ballar en públic i amb músics en viu, i perquè els ballarins professionals practiquin músiques noves i improvisació. A més a més de crear un nucli per a tots els ballarins de claqué de la ciutat.
*Acompanyada amb músics en directe.
*Presentat per la ballarina de claqué Laia Molins
*És un espectacle que sempre està obert a col·laboracions espontànies (cantants, músics,…).
Schedule
Days
Hours
Preus
Observation

26 febrer,
26 març,
23 abril,
28 maig i
25 juny

a les 19.00 h

Entrada general: 6 €
Address:

Carrer de Sant Lluís, 64

District:

Gràcia

Neighborhood:

la Vila de Gràcia

City:

Barcelona
Where
When

From 26/02/2023 to 25/06/2023
Website
Web venda d'entrades:
You may also be interested in...
If you would like to make a correction related to this activity...let us know