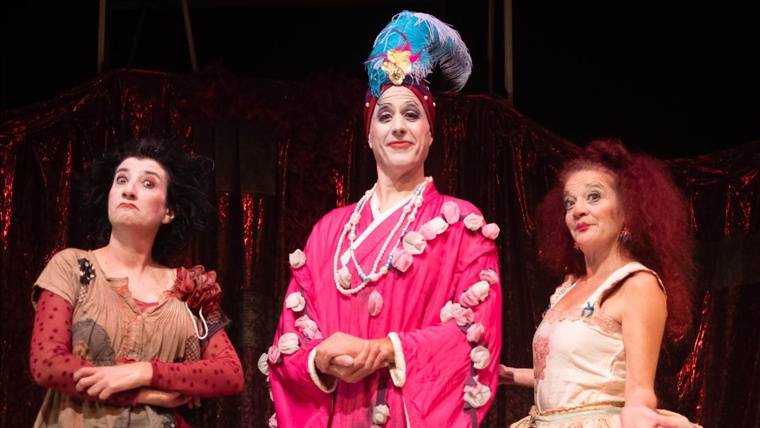 Shows. Three forgotten heroines tell us their stories with old clown acts.
A window, a light. Another window, a daily life. Another window, a building where three women talk to us about not being able to stop.
Everything collapses and breaks. That damned eternal war! Three women clowns who meet on this path of the old exodus to recreate the world and give us back the pleasure of laughing at the smallest things, but rubbing salt in the wound when things annoy us.
They live in the stories told in tales and use old clown acts to reaffirm their will to be comedians. Three forgotten heroines who tell us their stories set on laughing and getting us to laugh, to live in our memory.
Artists
Pepa Plana Company
Clown Augusta: Pepa Plana
Clown Blanca: Nan Valentí
Clown Against Augusta: Lola Gonzalez
Directed by: Pepa Plana and Nan Valentí
Traductor de

:
Schedule
Days
Hours
Preus

Dimecres, dijous, divendres i dissabte

a les 19.00 h

Entrada general de: 10.5 a 21 €

Diumenge

a les 12.00 h i
a les 18.00 h
Una finestra, una llum. Una altra finestra, un quotidià. Una altra finestra, un edifici on tres dones ens parlen d'un no poder parar. Tot s'ensorra, es trenca, la maleïda guerra eterna! Tres pallasses que es troben en aquest camí del èxode antic per recrear el món i tornar-nos el plaer de riure de les coses més petites, però posant el dit a la nafra quan les coses ens molesten. Viuen en les històries que s'han explicat als contes i utilitzen números de pallassos antics per reafirmar la voluntat de ser còmiques. Tres heroïnes oblidades que ens expliquen la seva història amb la voluntat de riure i fer riure, per viure en la nostra memòria.
Fitxa artística
Pallassa Augusta: Pepa Plana
Pallassa Blanca: Nan Valentí
Pallassa Contra Augusta: Lola Gonzalez
Direcció: Pepa Plana i Nan Valentí
Escenografia: Xavier Erra
Vestuari: Nídia Tusal
Address:

Carrer de la Seca, 2

District:

Ciutat Vella

Neighborhood:

Sant Pere, Santa Caterina i la Ribera

City:

Barcelona
When

From 12/01/2022 to 30/01/2022
Phone number
Tel.:

93 458 99 94
Website
Web venda d'entrades:
You may also be interested in...
If you would like to make a correction related to this activity...let us know