Traductor de

: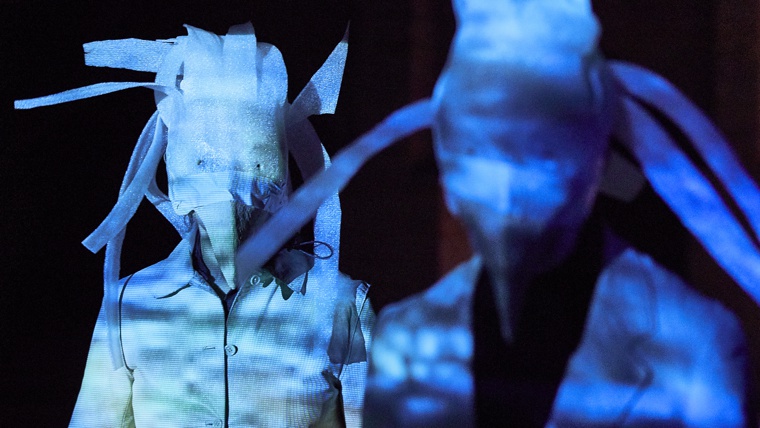 Els codirectors d'una de les grans companyies de l'escena de la dansa contemporània es retroben trenta anys després en escena i es pregunten sobre la identitat i la necessitat de perseguir els somnis impossibles.
Nascuda fa 34 anys, la companyia Mal Pelo ha posat en comú el talent de Pep Ramis i María Muñoz, creadors d'unes obres d'autoria compartida que utilitzen un llenguatge artístic propi fet de moviment i d'unes dramatúrgies amb text, bandes sonores originals i música en viu, complementades amb un ús intel·ligent de l'escenografia, la llum i el vídeo. Amb aquests elements assumeixen novament un protagonisme compartit dalt de l'escenari, molts anys després d'haver-ho fet per última vegada, i ens presenten una coreografia, Double Infinite. The Bluebird Call , creada a partir de la fragilitat, la senzillesa i l'amor per l'escena. La identitat, l'individu o el cos són temes que examina la peça, que transcorre en un espai nu en el qual il·luminació, objectes i so ens parlen de canvis i mutacions, i on la precisió el gest i del ritme i la intensitat del moviment són elements fonamentals. 
L'obra, explica la companyia, tracta sobre "la necessitat d'imaginar i de perseguir realitats impossibles, de construir una ficció que reveli la importància d'inventar-se el futur i projectar-lo més enllà del que és previsible". I és que aquesta fantasia constitueix un acte de rebel·lió contra una realitat que sembla immutable i "contra les estructures que ens edifiquen com a individus i com a societat". El cos esdevé, així, una eina de qüestionament del món que ens envolta i adopta un paper transformador.
Mal Pelo és una de les companyies de dansa que més presència ha tingut en la història del Grec Festival de Barcelona, on presenten muntatges des de l'any 1997 ( La calle del imaginero ). Entre les darreres creacions que han portat al festival hi ha Tots els noms (2022), El cinquè hivern (2015) i Inventions (Grec 2020).
Una coproducció del Grec 2023 Festival de Barcelona, Mal Pelo, Teatre Nacional de Catalunya, Théâtre de la Ville (París), Temporada Alta, Teatre Principal de Palma i El Canal, Centre d'arts escèniques Salt-Girona-Catalunya.
Amb la col·laboració de L'animal a l'esquena, Théâtre Garonne (Toulouse) i el Festival de Otoño de Madrid.
Autoria: Mal Pelo
Direcció i interpretació: María Muñoz, Pep Ramis
Col·laboració en la direcció: Leo Castro
Espai sonor: Fanny Thollot
Col·laboració musical i interpretació en viu: Quiteria Muñoz ( soprano ), Joel Bardolet (violí), Bruno Hurtado (violó)
Cap tècnic i il·luminació: Lluís Martí
Il·luminació: August Viladomat 
Tècnic de so: Andreu Bramon
Escenografia: Pep Ramis, Adrià Miserachs
Vestuari: CarmePuigdevalliPlantéS
Producció: Mamen Juan-Torres
Comunicació i distribució: Rita Peré
Schedule
Days
Hours
Preus
Observation

1 juliol,
5 juliol,
6 juliol,
7 juliol i
8 juliol

a les 19.00 h

Entrada general: 24 €

Consulteu la informació dels possibles descomptes al web del Festival o al web de l'espai

2 juliol i
9 juliol

a les 18.00 h
Others
Occur on:

Tickets sold at:

Organised by:
Address:

Pl Arts, 1

District:

Eixample

Neighborhood:

el Fort Pienc

City:

Barcelona
When

From 01/07/2023 to 09/07/2023
Website
Web:

Web:

Web venda d'entrades:
You may also be interested in...
If you would like to make a correction related to this activity...let us know