Traductor de

: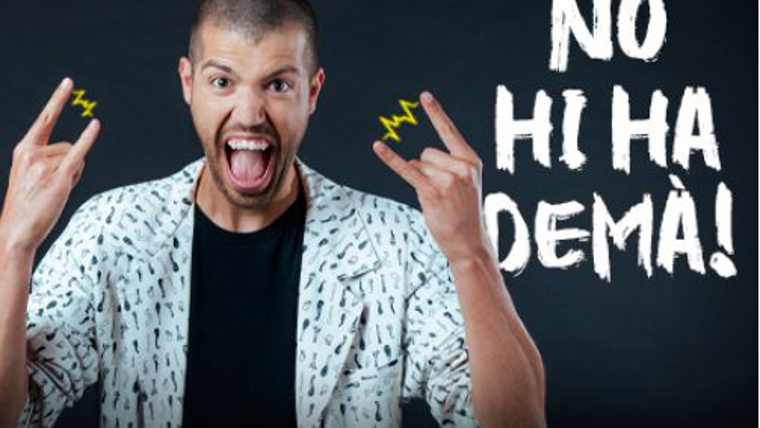 Màgia + humor + viure l'aquí i l'ara = No hi ha demà!
Vine a riure i a gaudir com si no hi hagués demà!
Jordi Pota, conegut per col·laborar a TV3, RAC105, La SER, entre d'altres, porta la seva millor màgia al Teatreneu! Uns hits brutals que ha elaborat en els seus primers 15 anys treballant en el món de l'il·lusionisme, l'humor i el teatre. Tots els efectes de màgia parlen del mateix: viure l'aquí i l'ara.
Un spoiler que potser ara no ho entendreu:
Un futur molt sorprenent us espera si gaudiu de tots els presents que en Jordi Pota us presentarà.
Si no ho enteneu, ja ho entendreu!
'Molta energia i participació sempre des del bon rotllo.' 'Un xute de positivisme.' 'He rigut tota l'estona i he plorat amb el final.' Alguna de les frases del públic quan surt de l'espectacle. Un show on l'objectiu principal és viure el present com si no hi hagués demà!
T'atreveixes?
Schedule
Days
Hours
Preus
Observation

Diumenge

a les 17.15 h

Entrada general: 24 €




Entrada anticipada: 14 €

(+ despeses de gestió)
Others
Occur on:

Tickets sold at:
Address:

C Terol, 26

District:

Gràcia

Neighborhood:

la Vila de Gràcia

City:

Barcelona
When

From 19/09/2021 to 19/12/2021
Phone number
Tel.:

932853712

Fax:

932843087
Website
Web venda d'entrades:
You may also be interested in...
If you would like to make a correction related to this activity...let us know