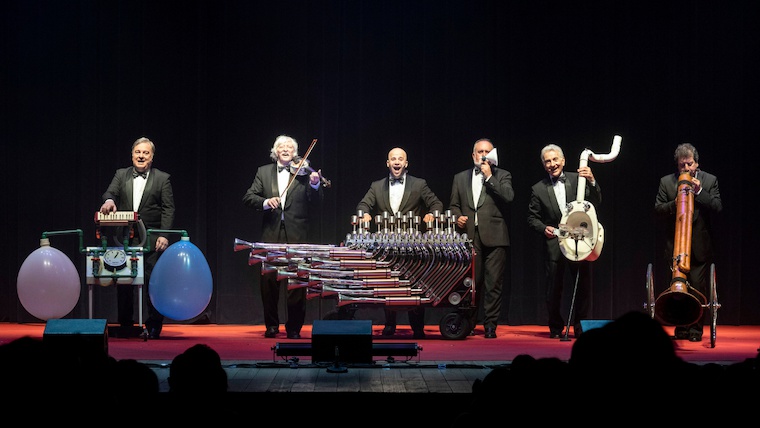 Comedy. The comical musical group will perform three shows in Barcelona as they bid a final farewell to the stage.
Les Luthiers bid a final farewell with the show Más Tropiezos de Mastropiero, which opened in Argentina and will be paying a visit to the Auditori Fòrum in Barcelona on 4, 5 and 6 July as part of its Spanish tour.
The show revolves around a supposed interview with the legendary creator of the group's works, Johann Sebastian Mastropiero, during which a large part of the composer's life, from his earliest failures to his most recent ones, are recalled using opportune musical and performative examples.
Tickets to see Les Luthiers are now on sale on the The Project website.
Traductor de

:
Schedule
Days
Hours
Preus
Observation

Dimarts, dimecres i dijous

a les 21.00 h

Entrada general de: 40 a 75 €

(Més despeses de gestió)

Entrades a la venda a partir de dijous, 23 de febrer, a les 12h
El grup humorístic-musical Les Luthiers s'acomiada per sempre dels escenaris amb Más Tropiezos De Mastropiero, xou que acaba d'estrenar amb gran èxit a Argentina i amb el que realitzarà la seva gira comiat d'Espanya.
Más Tropiezos De Mastropiero és el primer espectacle nou del grup (no antològic) en 15 anys, corol·lari de la prolongada història de Les Luthiers i alhora elogi de la carrera del cèlebre compositor. Constitueix, pel disseny del relat i l'aportació de les virtuts de l'elenc 2019, una mena de síntesi entre tradició i modernitat. L'espectacle gira al voltant d'una suposada entrevista —culta, aguda, documentada i exemplificada— al mític creador de les obres de les Luthiers, Johann Sebastian Mastropiero. En el transcurs d'aquesta entrevista es rememora, amb exemples musicals i escènics oportuns, bona part de la vida del compositor, des dels seus primers fracassos fins als més recents.
Hi haurà, juntament amb els ja coneguts, nous instruments informals i moltes noves cançons i escenes, a les quals s'afegirà una selecció curta d'obres del repertori tradicional. Más Tropiezos De Mastropiero portarà, per als amants de l'humor de les Luthiers, un ram de novetats, de rialles i riallades, que es potenciaran amb la seva proverbial qualitat musical. Tot dins l'estil clàssic del conjunt, en què intel·ligència, cultura, refinament i elegància no són obstacles sinó plataformes des de les quals brindar diversió de qualitat a públics de totes les edats.
Els autors de Más Tropiezos De Mastropiero són dos dels integrants "històrics" del grup, Carlos López Puccio i Jorge Maronna. A més d'ells, l'elenc 2019 de Les Luthiers està integrat per Roberto Antier, Tomás Mayer-Wolf, Martín O'Connor i Horacio Tato Turano, i actuen com a alternants Santiago Otero Ramos i Pablo Rabinovich.
Address:

Pl Willy Brandt, 11*14

District:

Sant Martí

Neighborhood:

Diagonal Mar i el Front Marítim del Poblenou

City:

Barcelona
When

From 04/07/2023 to 06/07/2023
Website
Web venda d'entrades:
You may also be interested in...
If you would like to make a correction related to this activity...let us know