Traductor de

: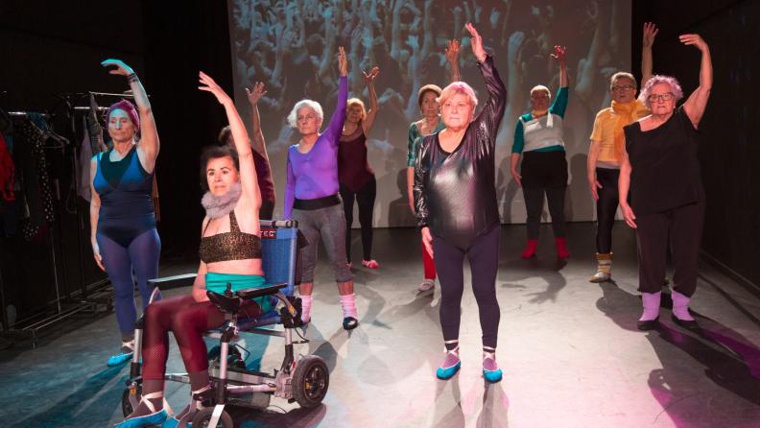 Us proposem assistir a una  obertura de procés  de la nova exploració escènica del grup artístic comunitari de l'Antic Teatre a partir de l'imaginari coreogràfic de Bob Fosse, els relats de vida dels / de les participants i la reflexió crítica entorn la societat de l'espectacle.
Dedicat a títol pòstum a la Graciela Alonso Domingo. La teva llum sàvia, dolça i rebel ens acompanya a cada instant. Ara i aquí. Bategues.
Els musicals nord-americans van marcar tota una època per als i les habitants dels països que, a l'altra riba de l'Atlàntic, vivien vides ben diferents de les que es veien a la pantalla. Però, i si aquell món fascinant amagava mecanismes de dominació política i econòmica adreçats a diluir la lluita de classes? Aquest és un dels interrogants que serveixen de punt de partida de la nova experiència escènica amb els veïns i veïnes de Ciutat Vella que formen part del projecte artístic comunitari de l'Antic Teatre. En aquesta ocasió, posen en relació els seus relats de vida amb les imatges, fastuoses i optimistes, del món glamurós imaginat per Bob Fosse. Les històries personals dels i de les participants neixen a partir de l'anomenada "arqueologia del quotidià", una metodologia que proposa la recuperació de la  memòria viva a partir d'un document, objecte o fotografia. Aquest relat de vida quotidiana, que ens parla de la postguerra, la moral nacional-catòlica del franquisme, el trànsit cap a la democràcia i les vides a crèdit, tindrà com a contrapunt les coreografies de Bob Fosse, reproduïdes en escena i en directe pels i per les participants. Aquí no és tan important una execució perfecta, com el plaer d'expressar-se artísticament a través de la paraula i del moviment. Un dret, un gaudi i una reivindicació.
Creació i interpretació: VEÏNS I VEÏNES DEL PROJECTE ARTÍSTIC COMUNITARI DE L'ANTIC TEATRE (AURORA ROIG GONZÁLEZ, EMILIA MARTÍN MORENO, MARIA ISABEL GUTIÉRREZ, JONATHAN CARRILERO BALLESTER, ENRIQUE IBÁÑEZ, MERCÈ MARTÍNEZ, MARI CRUZ PAVÁN, FRANCESCA NAVARRETE, YOLANDA PRIETO, MONTSERRAT CUSSÓ, LAURA ALONSO, NÉLIDA ESTER DÍEZ).
Acompanyament terapèutic i transmissió coreogràfica: MONTSERRAT IRANZO I DOMINGO.
Enregistrament i edició de vídeo: ABEL MONTES.
Adaptació, composició musical i disseny de so: PAU DE NUT.
Disseny d'il·luminació i coordinació tècnica: EQUIP TÈCNIC DE L'ANTIC TEATRE AMB L'ASSESSORAMENT DE L'ANA ROVIRA.
Assessorament espai escènic i recursos plàstics: NICOLÁS SPINOSA.
Estudiants d'Eòlia: MIREIA OBREGON, JULIA TURU, MARINA GARCIA GALÁN i SOL CARNER.
Coordinació i direcció del projecte artístic comunitari de l'Antic Teatre: MARTA GALÁN SALA i MONTSERRAT IRANZO I DOMINGO.
Acompanyament en la gestió, la producció i la comunicació: ANTIC TEATRE.
Schedule
Days
Hours
Preus
Observation

Dijous, divendres i dissabte

a les 20.00 h

Entrada general: 15 €

Entrada anticipada: 12 €
Address:

C Verdaguer i Callís, 12

District:

Ciutat Vella

Neighborhood:

Sant Pere, Santa Caterina i la Ribera

City:

Barcelona
When

From 20/04/2023 to 22/04/2023
Website
Web venda d'entrades:
You may also be interested in...
If you would like to make a correction related to this activity...let us know