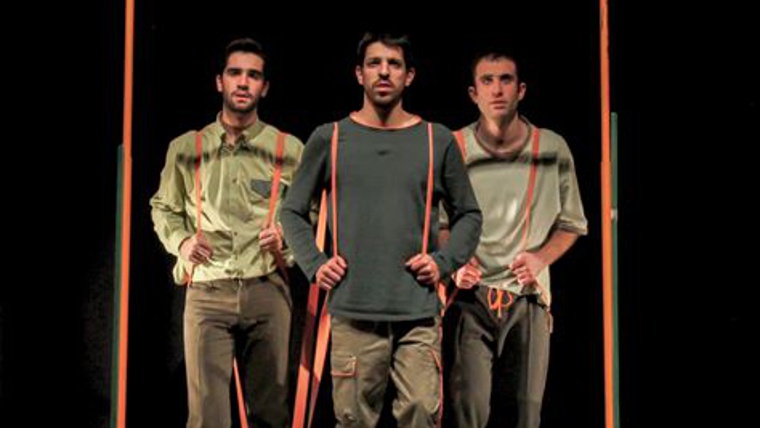 SINOPSI
Tres repartidors de menjar a domicili decideixen escenificar una farsa que exposa les desigualtats socials. La realitat s'anirà barrejant amb la seva pròpia ficció. És precisament gràcies a aquesta juxtaposició entre el món fictici d'un tal "Don Izquierdo" i la realitat dels riders que els nostres tres protagonistes poden apel·lar a la desigualtat del sistema de classes. Tot això sempre amb una barreja d'humor groller, de personatges caricaturitzats i de versions de cançons icòniques revolucionàries que es contrasten amb una realitat crua basada en el testimoni directe del propi rider.
FITXA ARTÍSTICA
Directora: Montserrat Bonet
Autor: Gabi Jiménez
Intèrprets: Abel Reyes Alabart, Marc Tarrida Aribau, Francesc Marginet Sensada
Escenografia i vestuari: Clàudia Serra
Disseny de llums: Natàlia Ramos
Sorollista: Àlex Polls
Moviment: Esther Sabaté
Assessoria musical: Joana Rosselló
Veun en off: Vanessa Segura
Actriu vídeo: Laura Aubert
Fotografies: Beli Klein, Ury Escalé
Disseny Gràfic: Carles Duran
Vídeo: Josep Selgar i Bernat Enrich
Distribució: Cristina Ferrer
Schedule
Days
Hours
Preus
Observation

Dimecres, dijous, divendres i dissabte

a les 20.00 h

Entrada general de: 10 a 20 €

(+ despeses de gestió)

Diumenge

a les 18.00 h
Address:

Carrer de Flassaders, 40 - 40A

District:

Ciutat Vella

Neighborhood:

Sant Pere, Santa Caterina i la Ribera

City:

Barcelona
When

From 14/06/2023 to 02/07/2023
Website
You may also be interested in...
If you would like to make a correction related to this activity...let us know