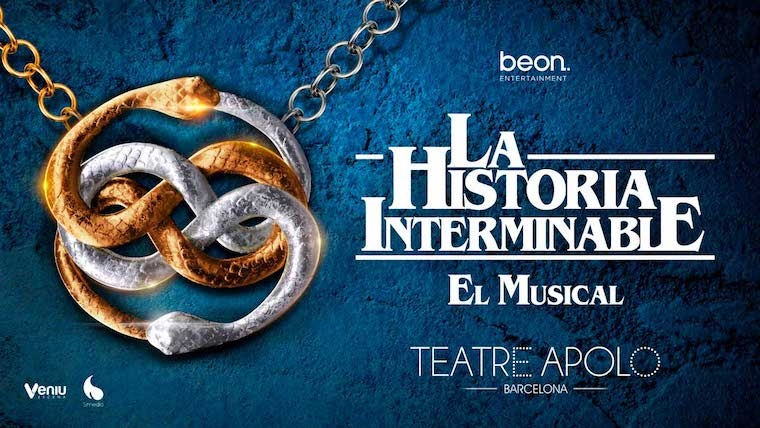 Musical. The story that enchanted an entire generation is now a show featuring original music, magic, special effects, nostalgia and plenty of fantasy.
The Neverending Story. The musical is a show based on the Michael Ende novel filled with music, magic and special effects.
Summary
The Nothing is making landscapes and magical creatures disappear. To avoid it, the Childlike Empress sends Atreyu, the warrior, to find a solution in a heroic, desperate adventure.
This is the story in the book that Bastian, a boy who loves reading, discovers on Mr Coreander's bookshelves. Or perhaps he book found Bastian?
Fantastical beings, witches, nocturnal sylphs, rock giants, flying dragons... Bastian is so entranced with Atreyu's adventures it's as if he's experiencing them himself. If only he could help the Childlike Empress...
Show in Spanish.
Duration: 2 hours and 30 minutes, with an interval.
Schedule
Days
Hours
Preus
Observation

Dimecres i dijous, 19 desembre i
5 gener excepte 27 desembre, 28 desembre i 3 gener

a les 20.00 h

Entrada general de: 23 a 92 €




(+ despeses de gestió)

Durada: 2 hores i 30 minuts

Divendres i dissabte i
3 gener excepte 6 gener

a les 17.00 h i
a les 20.30 h

Diumenge

a les 12.00 h i
a les 17.00 h

26 desembre i
6 gener

a les 19.00 h

27 desembre,
28 desembre i
2 gener

a les 17.00 h

5 març

a les 18.00 h
Others
Occur on:

Tickets sold at:
La Res no està fent desaparèixer els seus paisatges i les seves criatures màgiques. Per evitar-ho, l'Emperadriu Infantil envia a Atreyu el guerrer a buscar una solució en una aventura heroica i desesperada.
Aquesta és la història del llibre que Bastian, un nen que estima la lectura, descobreix a la llibreria del senyor Koreander. O és el llibre qui ha trucat a Bastian?
Éssers fantàstics, bruixes, silfs nocturns, gegants botiguers, dracs voladors… Bastian queda fascinat pel llibre mentre llegeix les aventures d'Atreyu com si les estigués vivint.
Tant de bo ell pogués ajudar l'Emperadriu Infantil…
Address:

Avinguda del Paral·lel, 57 - 61

District:

Sants-Montjuïc

Neighborhood:

el Poble-sec

City:

Barcelona
Where
When

From 22/11/2023 to 07/04/2024
Website
Web venda d'entrades:
If you would like to make a correction related to this activity...let us know