Traductor de

: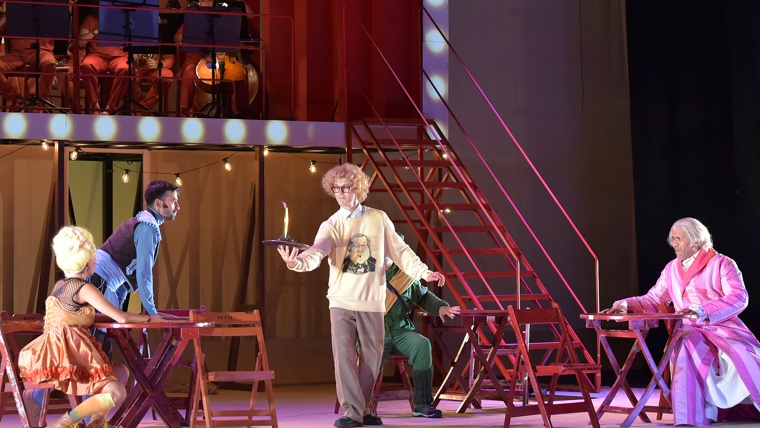 La cuina de Rossini ens explica la història de dos joves, en Ross i la Isabella, els quals, en un viatge d'amistat i de descoberta, s'endinsaran en un món fascinant que els portarà fins a les òperes de Rossini.
Una història màgica i plena de contrastos on els joves protagonistes s'adonaran que la diferència els enriqueix i en la qual modernitat i tradició es troben per entendre's i complementar-se.
Valors com la passió per la música, els hàbits saludables, la superació i el respecte els acompanyaran en aquesta aventura.
Rossini, a banda de la seva genialitat com a músic, era un apassionat de la cuina. Les receptes de La cuina de Rossini, en aquest cas, no seran només culinàries
Recomanat a partir de 6 anys.
Fitxa artística
Direcció d'escena: David Selvas
Direcció i adaptació musical: Andreu Gallén
Dramatúrgia: Sergi Pompermayer
Coreografia: Ana Pérez
Escenografia: Alejandro Andújar
Assistent d'escenografia: Maria Albadalejo
Ajudant de direcció: Norbert Martínez
Vestuari: Maria Armengol
Il·luminació: Marc Salicrú
Vídeo: Joan Rodón i Emilio Valenzuela (dLux.pro)
Il·lustracions: Coaner Codina
Assistent musical: Adrià Aguilera
Orquestra: Ensemble Conservatori Liceu
Músics: Neus Navarrete (Violí), Pol Coronado (Violí), Elena Lasheras (Viola), Violeta Albert (Violoncel), Enric Bassacoma (Contrabaix), Josep Portella (Flauta), Clara Soler (Clarinet), Marc Anguera (Trompa) i Albert Muñoz (Fagot).
Repartiment
Rossini: Frederico de Oliveira
Ross: Toni Viñals
Isabella: Neus Pàmies
Cenerentola: Mar Esteve
Fiorello: Joan Garcia Gomà
Basili: Xavi Fernández
Guillem: José Manuel Guinot
Schedule
Days
Hours
Preus
Observation

8 gener,
14 gener i
21 gener

a les 11.00 h

Entrada general de: 10 a 25 €

Informació sobre abonaments i

descomptes a la web i taquilles

del teatre

15 gener

a les 10.15 h i
a les 12.15 h
Address:

C la Rambla, 51*59

District:

Ciutat Vella

Neighborhood:

el Raval

City:

Barcelona
When

From 08/01/2023 to 21/01/2023
Phone number
Ticket sale:

Ticket sale:

Tel.:

Fax:
Website
Web venda d'entrades:
You may also be interested in...
If you would like to make a correction related to this activity...let us know