Traductor de

: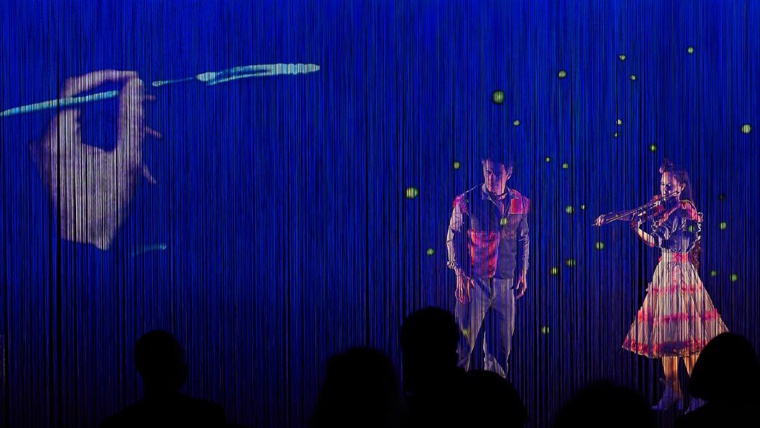 Espectacle on música, imatge i il·lustració interactuen en directe per embolcallar el públic infantil d'una experiència sensorial immersiva i impactant.
Música que ajuda a mirar i imatge que ajuda a escoltar: connexió de llenguatges per imaginar, sentir i créixer.
Un viatge de descoberta on dos cantants, dos músics i una il·lustradora interpretaran una selecció d'àries d'òpera molt conegudes que han estat curosament arranjades per atraure els més menuts.
La proximitat amb els intèrprets que facilita la sala Foyer permetrà una connexió molt directa del públic amb l'escena.
Recomanat a partir de 3 anys
Fitxa artística
Dramatúrgia, direcció d'escena i videoescena: Juan Pablo Mendiola
Artista visual: Patossa (Patrícia Barrachina)
Direcció musical: Francesc Valldecabres
Arranjaments musicals: Isabel Latorre
Escenografia: Los Reyes del Mambo
Figurinista: Maria Almudéver
Motion graphics: Laura Cuello
Programació Qlab i Mad mapper: Efrén Bellostes
Repartiment
Soprano / ViolíSaray García
Baríton / GuitarraFran García
Pianista / David Barberá
Multiinstrumentista / Isabel Latorre
Actriu / Patossa (Patrícia Barrachina)
Schedule
Days
Hours
Preus
Observation

13 maig,
14 maig i
20 maig

a les 11.00 h

Entrada general de: 7.5 a 15 €

Informació sobre abonaments i

descomptes a la web i taquilles

del teatre
Address:

la Rambla, 51*59

District:

Ciutat Vella

Neighborhood:

el Raval

City:

Barcelona
When

From 13/05/2023 to 20/05/2023
Phone number
Ticket sale:

Ticket sale:

Tel.:
Website
Web venda d'entrades:
You may also be interested in...
If you would like to make a correction related to this activity...let us know