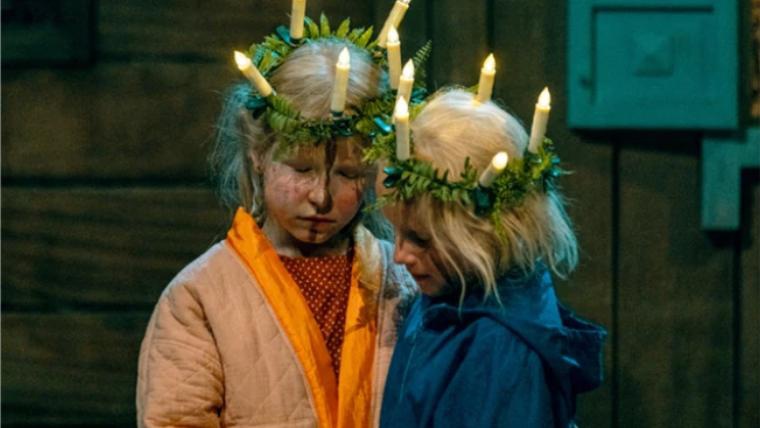 Theatre. A parable on the impossibility of living in peace, from a child's perspective.
Based on real facts, Kingdom deals with two families disgusted with civilisation who happily install themselves in the Siberian taiga. But even that paradise is short lived: distrust, jealousy and greed soon get the better of them, leading to dispute, confrontation and destruction.
The division of the land starts to be seen as unjust, with fate apparently having it in for one of the two families. The customs of the one and practices of the other threaten the now delicate balance of this new society, until a wall is built one day between the two families. That triggers a war. The families' children watch on as their world vanishes, a few metres from the battlefield. The tragedy is told through the eyes of a film-maker…
Artists
Written and directed by: Anne-Cécile Vandalem; Performers: Arnaud Botman, Laurent Caron, Philippe Grand'Henry, Épona Guillaume, Zoé Kovacs; Cameras: Federico D'Ambrosio, Leonor Malamatenios; Children: Juliette Goossens/Ida Mühleck, Léa Swaeles/Léonie Chaidron, Daryna Melnyk/Eulalie Poucet, Isaac Mathot/Noa Staes; Dogs: Judy, Olrùn, Oméga; Musicians: Pierre Kissling/Vincent Cahay.
Show in French with subtitles in Catalan and English.
Duration: 1 hour 40 minutes.
Traductor de

:
Schedule
Days
Hours
Preus
Observation

Divendres i dissabte

a les 19.00 h

Entrada general de: 10 a 29 €




Jubilats targeta rosa / Abonats al TNC / Abonats al Mercat de les Flors / Tresc / Biblioteques / Subscriptors de la Vanguardia / Dia de l'espectador: 24.50 €




Persones amb diversitat funcional / famílies nombroses i monoparentals / aturats / menors de 30 anys: 14.50 €




Grups (A partir de 15 persones): 21.50 €




Menors de 14 anys: 10 €




***La venda per telèfon té un cost addicional per gestió: 3 €/entrada.
Others
Occur on:

Tickets sold at:
Última part de la trilogia d'aquesta directora belga sobre el fracàs de la civilització occidental, després de Tristesses (2016) i d'Arctique (2018). Inspirada lliurement en el documental Barguino de Clément Cogitore (2017), s'hi narra la història de dos germans que, fastiguejats de la civilització, s'instal·len feliçment a la taigà siberiana amb les respectives famílies i fills. Però fins i tot aquest paradís ha de durar poc: la desconfiança, la gelosia i la cobdícia aviat els assalten i condueixen al conflicte, l'enfrontament i la destrucció. Una paràbola sobre la impossibilitat de viure en pau plantejada des de la perspectiva dels infants: nascuts en un món devastat pels adults, s'han de construir el futur damunt d'una utopia enrunada.
INTÈRPRETS
Arnaud Botman, Laurent Caron, Philippe Grand'Henry, Épona Guillaume i Zoé Kovacs
INFANTS
Juliette Goossens/Ida Mühleck, Lea Swaeles/Léonie Chaidron, Daryna Melnyk/Eulalie Poucet, Isaac Mathot/Noa Staes
GOSSOS
Ice, Oméga i Olrún
CREACIÓ I INTERPRETACIÓ MUSICAL
Pierre Kissling i Vincent Cahay
DRAMATÚRGIA
Sarah Seignobosc
ESPAI ESCÈNIC
Ruimtevaarders
DIRECTOR DE FOTOGRAFIA
Federico D'Ambrosio
VESTUARI
Laurence Hermant
CARACTERITZACIÓ
Sophie Carlier
IL·LUMINACIÓ
Amélie Géhin
VÍDEO
Frédéric Nicaise
ESPAI SONOR
Antoine Bourgain
CÀMERA
Leonor Malamatenios
L'espectacle es sobretitulat en català i anglès
Address:

Pg Santa Madrona, 40*46

District:

Sants-Montjuïc

Neighborhood:

el Poble-sec

City:

Barcelona
When

From 31/03/2023 to 01/04/2023
Phone number
Ticket sale:

93 228 97 48 de dilluns a divendres de 10 a 20 h

Tel.:

Fax:
Website
Web venda d'entrades:
You may also be interested in...
If you would like to make a correction related to this activity...let us know