Traductor de

: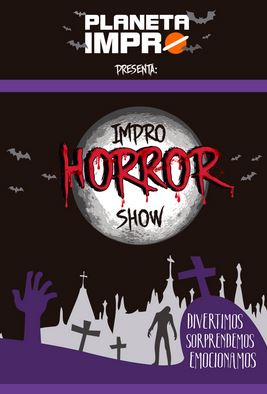 Riure's de les pors és la millor teràpia per espantar-les, per això a Impro Horror Show preparem tot un aquelarre en escena per invocar-les.
Fantasmes, dimonis, bruixotes, assassins en sèrie i morts vivents ens posseeixen per mostrar-te la cara més còmica de la por. Amb aquesta energia els actors transformen les frases del públic (improtítols) en escenes improvisades, intrigants i aterridorament gracioses.
Un museu de cera, el campament d'estiu, una casa encantada o el cementiri poden ser els escenaris perfectes per tractar les fòbies més comunes i superar-les amb el millor humor.
Perquè ens ho estaves demanant a crits… T'atreveixes?
Schedule
Period
Days
Hours
Preus

Del 27 octubre al 31 octubre

Dimecres

a les 20.30 h

Entrada general de: 26 €
Entrada anticipada: 16 €
(+ despeses de gestió)

Dijous

a les 21.00 h

Divendres

a les 20.30 h i
a les 22.30 h

Dissabte

a les 12.00 h,
a les 20.30 h i
a les 22.30 h

Diumenge

a les 19.30 h

De l'1 novembre al 30 novembre

Dissabte

a les 22.30 h

1 novembre

a les 19.30 h
Others
Occur on:

Tickets sold at:
Address:

C Terol, 26

District:

Gràcia

Neighborhood:

la Vila de Gràcia

City:

Barcelona
When

From 27/10/2021 to 29/01/2022
Phone number
Tel.:

932853712

Fax:

932843087
Website
Web venda d'entrades:
You may also be interested in...
If you would like to make a correction related to this activity...let us know