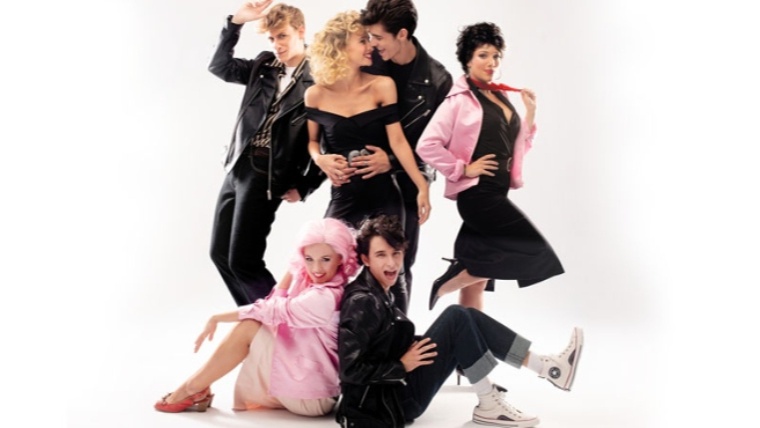 Musical. A chance to enjoy this classic musical.
Grease El Musical explains life in a small-town American high school in the 1950s, where a group of students pick their way through the timeless conflicts of teenage life.
The musical, which in 2021 marked fifty years since its original performance in Chicago, became the quintessential rock and roll production, as well as one of the biggest cinema box-office hits in history.
Artists
Music director: Joan Miquel Pérez, Álex Larraga, Jacob Sureda; Artistic director: Joan Miquel Pérez; Cast: Lucía Peman, Mia Lardner, Quique González, Isabel Pera, Jan Buxaderas, Lucas Miramón, Elisa Hipólito, Pau Gimeno, Sonia Vallverdú, Víctor Massán, Paula Domínguez, Samuel Gómez, Rocío Serrato, Nerea González, Christian Velert.
Show in Spanish.
Duration: 165 minutes.
Traductor de

:
Schedule
Days
Hours
Preus

Dimarts, dimecres, dijous i divendres i
2 gener excepte 6 desembre, 8 desembre, 23 desembre, 29 desembre, 30 desembre, 5 gener, 6 gener, 13 gener, 20 gener, 27 gener, 3 febrer i 10 febrer

a les 20.00 h

Entrada general de: 16.3 a 64 €

(+ despeses de gestió)

6 desembre i
8 desembre

a les 17.00 h

6 gener,
13 gener,
20 gener,
27 gener,
3 febrer i
10 febrer

a les 21.00 h

Dissabte excepte 3 desembre i 24 desembre

a les 16.30 h i
a les 20.30 h

3 desembre

a les 20.30 h

Diumenge excepte 25 desembre

a les 12.30 h i
a les 17.00 h

23 desembre,
29 desembre i
30 desembre

a les 17.00 h i
a les 21.00 h

25 desembre

a les 19.30 h

26 desembre

a les 19.00 h
El musical amb més ritme de tots els temps t'espera al Teatre Tívoli de Barcelona.
GREASE EL MUSICAL és el fenomen de la cultura pop que narra la vida en l'institut d'una petita ciutat americana en els anys 50, havent-se convertit en el gran musical del Rock and roll per excel·lència, a més d'en una de les pel·lícules musicals més taquillera de la història.
Celebrant el 2021 els 50 anys des de la seva estrena original a Chicago, GREASE continua sent una de les principals fonts d'inspiració per a noves creacions artístiques. SOM Produce se suma a aquest aniversari i estrena una nova producció amb una ambiciosa i innovadora posada en escena, a càrrec del mateix equip creatiu de Billy Elliot.
"Situat a finals dels anys 50 a l'institut Rydell High, un grup d'estudiants de classe obrera navega per conflictes atemporals, com les complexitats de la pressió de grup, els valors personals, l'amistat, l'amor, el despertar sexual de l'adolescència i la consciència de classe, la qual cosa li converteix en el musical adolescent per excel·lència i la fa romandre eternament jove."
Aconsegueix ja les teves entrades per venir al Teatre Tívoli i deixar-te endur pel "Grease Lightning"!
Address:

Casp, 8*10

District:

Eixample

Neighborhood:

la Dreta de l'Eixample

City:

Barcelona
Where
When

From 03/12/2022 to 12/02/2023
Website
Web venda d'entrades:
You may also be interested in...
If you would like to make a correction related to this activity...let us know