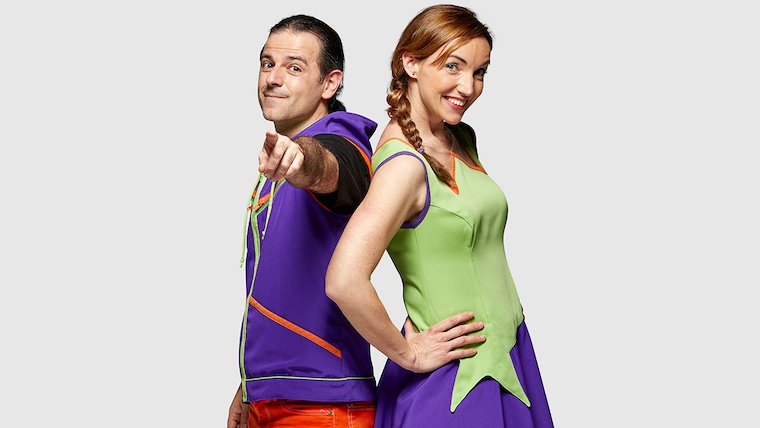 Music. A show full of music, theatre and puppets, ideal to let your imagination run wild, dancing, singing, laughing and enjoying good company!
El Pot Petit's concert isn't just any old concert. It's a concert that's packed with adventure and songs, where Jana, Pau and the Melmelada Band are visited by lots of their friends. Among them you'll find a bashful lion, a cheeky cockerel, the wandering pirates, Aura the dinosaur and Ona the pop star!
Show in Catalan.
Duration: 70 minutes.
Recommended for: children between the ages of 2 and 8 and their families.
For the show on Sunday 2 April a Catalan sign language and hearing loop service will be available. To book a seat that includes this service, please write to taquilla@teatrepoliorama.com by Sunday 26 March at the latest.
Traductor de

:
Schedule
Days
Hours
Preus
Observation

Dissabte i diumenge excepte 8 abril i 9 abril

a les 12.00 h

Entrada general de: 9.5 a 18 €

(+ Despeses de gestió)
Others
Occur on:

Tickets sold at:
El concert d'El Pot Petit no és un concert qualsevol! És un concert ple d'aventures i cançons on la Jana, en Pau i la Melmelada Band reben la visita de molts dels seus amics! No hi faltaran el lleó vergonyós, un gall marxós, els pirates rodamons, l'Aura la dinosaure i l'Ona l'estrella del pop! Un espectacle ple de música, teatre i titelles, ideal per a fer volar la imaginació tot ballant, cantant, rient i gaudint amb bona companyia!
Address:

la Rambla, 115

District:

Ciutat Vella

Neighborhood:

el Raval

City:

Barcelona
Where
When

From 25/03/2023 to 23/04/2023
Website
Web venda d'entrades:
If you would like to make a correction related to this activity...let us know