Traductor de

: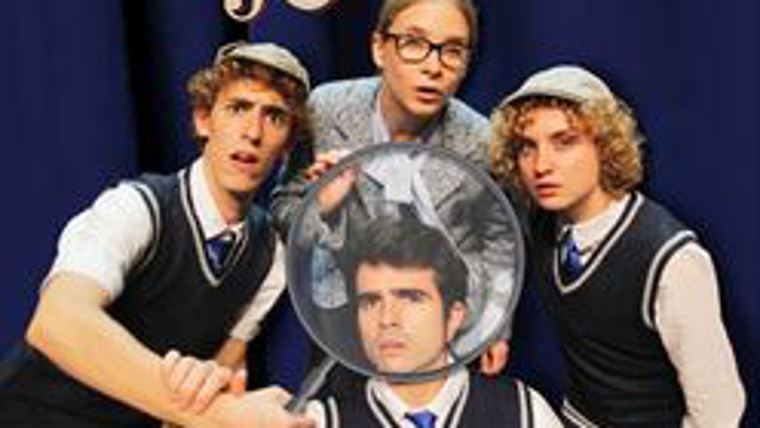 ARGUMENT:
Un jove Sherlock Holmes, net del famosíssim detectiu, intenta acabar els seus estudis a la prestigisosa escola de detectius INQUISITOR SCHOOL de Londres. Però per molt famós que sigui el seu llinatge, l'examen final se li resisteix. Li caldrà l'ajuda dels nous alumnes (el públic) que també s'han presentat per a les proves d'accés a l'escola. A través del treball en equip descobrirem si el nostre protagonista podrà superar aquest últim examen i aconseguir el diploma d'investigador.
De manera simultània mentre s'està realitzant l'exàmen, en Marty Moriarty, el conserge de l'escola de detectius i també net del famós geni del crim James Moriarty, ha tancat a tots els alumnes de primer (l'altre part del públic) al despatx de la directora Rutteford. Només si aconsegueixen desxifrar un seguit d'enigmes podran sortir i poder-se presentar a la prova d'accés… Però no patiu! per sort, entre els alumnes s'hi troba la Joana Watson, neta del dr John Watson, d'una intel·ligència i perspicàcia impressionants.
Serà l'atzar? o el destí? Els hereus de Holmes-Watson-Moriarty estan predestinats a retrobar-se per a resoldre els enigmes de "EL MISTERI DE SHERLOCK HOLMES"
FITXA ARTÍSTICA:
Mary Rutterford:Mireia Lorente-Picó/Anna Cerveró
Sherlock Holmes:Carles Jiménez
Joana Watson: Keila Ruipérez/Lorena Garcia
Marty Moriarty: Marc Canyadell/Genís Lama
Text Roc Olivé
Direcció Joan Olivé
Una producció de: TTT produccions
Schedule
Days
Hours
Preus
Observation

Diumenge

a les 12.00 h

Entrada general: 15 €




(Més despeses de gestió)

Aforament limitat

Cal reserva prèvia




Durada: 60 minuts

15 gener

a les 16.30 h i
a les 18.00 h
Others
Occur on:

Tickets sold at:
Address:

C Sèneca, 22

District:

Gràcia

Neighborhood:

la Vila de Gràcia

City:

Barcelona
Where
When

From 18/09/2021 to 27/02/2022
Website
Web venda d'entrades:
You may also be interested in...
If you would like to make a correction related to this activity...let us know