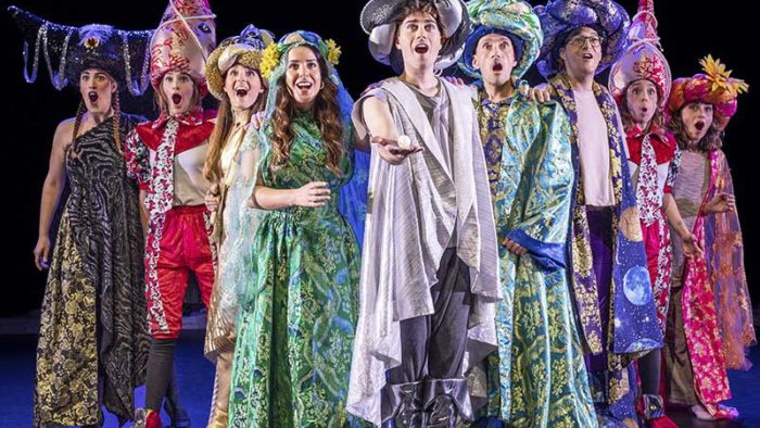 Descobrim la història del quart Rei d'Orient
Una aventura plena de música i fantasia per a tota la família
La nit de Reis, els nervis no deixen dormir als més petits. Mentre esperen que es faci de dia per poder obrir els regals, la Clàudia i l'Eloi li explicaran al seu germà Blai la llegenda d'Artaban, el jove príncep fascinat per les estrelles que decideix sumar-se a l'expedició dels Reis Mags seguint l'estel d'Orient. Artaban emprèn un viatge ple d'aventures i, sobretot, d'aprenentatges.
Fitxa artística
Idea original i direcció musical: Marc Sambola / Direcció: Marc Angelet / Text: Marc Rosich / Lletres: Yasmina Rincón / Interpretació: Francesc Abril, Laura Bacaria, Laura G. Ballbé, Júlia Diaz, Ana Extremera, Marc Fabregat, Núria Llausí, Ferran Rull i Clara Solé / Coreografies: Bealia Guerra / Ajudantia de direcció: Laura G. Ballbé / Il·luminació: Ramon Ramiro / So: Jaume Edo / Escenografia: Anna Tantull / Vestuari: Iztok Hrga / Barreteria i complements: Mar Grañena / Coproducció: A Grup Vocal i Puça Espectacles
29 de desembre, 17.30h:  Funció accessible en llengua de signes catalana i subtitulació. Servei d'audiodescripció i visita tàctil disponible sol·lici­tant-ho al teatre fins al dia 18 de desembre.
Schedule
Days
Hours
Preus

28 desembre,
29 desembre,
30 desembre,
2 gener,
3 gener i
4 gener

a les 17.30 h

Entrada general: 10 €

(+ despeses de gestió)
Others
Occur on:

Tickets sold at:
Address:

C Neopàtria, 54

District:

Sant Andreu

Neighborhood:

Sant Andreu

City:

Barcelona
Where
When

From 28/12/2023 to 04/01/2024
Website
Web venda d'entrades:
You may also be interested in...
If you would like to make a correction related to this activity...let us know