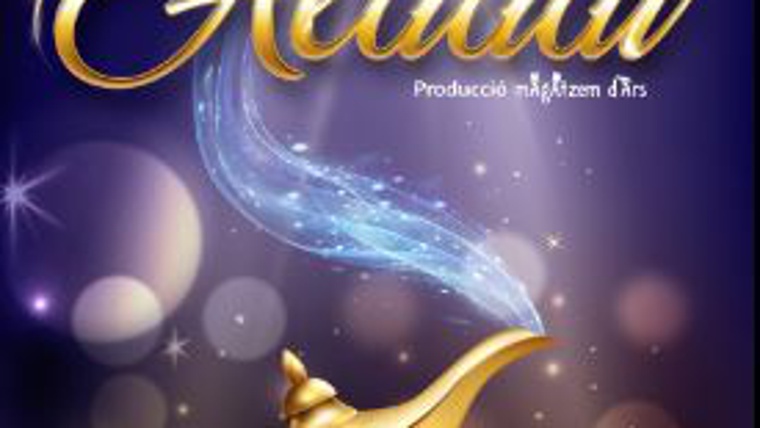 Aladdí és un noi d'un país llunyà d'orient que es guanya la vida fent malabars al carrer. Un dia coneix la Princesa Jazz i s'enamora d'ella, però sap que mai es podran casar perquè ell no és un príncep. Quan un familiar que feia anys que no veia li ofereix la possibilitat d'entrar a la cova de les mil meravelles, veu l'oportunitat de fer-se ric i així guanyar-se el dret de pretendre a la Princesa Jazz.
Fitxa artística:
Aladí: Toni Cerdà
Princesa Jazz: Andrea Márquez / Andrea Sevilla
Geni / Mercader: Mireia Obregón
Mag Brubrú / Vell : David Casas Direcció: Albert Pueyo
Direcció vocal: Xènia Nogué
Llibret: Eloy Cabacas
Vestuari: Laura Taus i Moisés Prats
Escenografia: Raquel Gonta i Marina Lozano
Producció: Magatzem d'Ars
Schedule
Days
Hours
Preus
Observation

Diumenge

a les 11.00 h

Entrada general: 14 €

Anticipada: 11 €

(Més despeses de gestió)




Dimecres

a les 17.00 h
Others
Occur on:

Tickets sold at:
Address:

C Jonqueres, 15

District:

Ciutat Vella

Neighborhood:

Sant Pere, Santa Caterina i la Ribera

City:

Barcelona
Where
When

From 17/12/2023 to 27/01/2024
Website
You may also be interested in...
If you would like to make a correction related to this activity...let us know