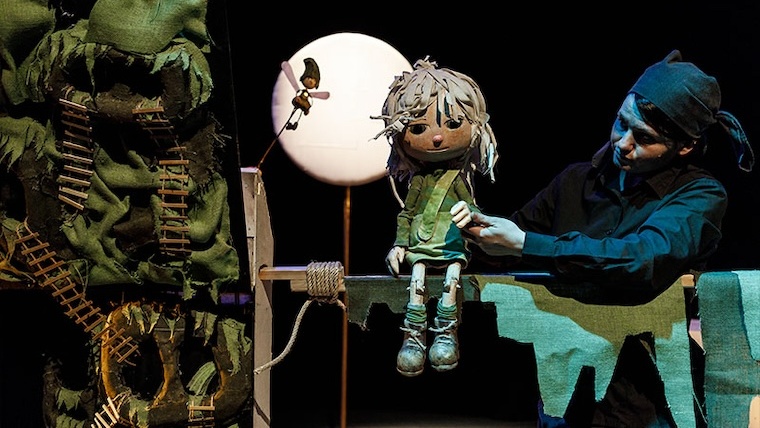 Theatre and puppets. A thrilling adaptation of the classic tale that speaks to us of the bond between children and their grandparents.
Synopsis
Maria is a child with a big imagination. She loves the stories and adventures told to her by her grandfather, with whom she spends all her afternoons playing Peter Pan. One night, the lost boys take Maria to Neverland...The pirates, Tinker Bell, the Indians and the whole of the imaginary world created by James Matthew Barrie become a part of her real life.
Show in Catalan.
Duration: 55 minutes.
Recommended for ages 3 and over.
Schedule
Days
Hours
Preus

6 desembre i
8 desembre

a les 12.00 h

Entrada general: 10 €

(+ despeses de gestió)

Dissabte

a les 17.30 h

Diumenge

a les 12.00 h

a les 17.30 h
Others
Occur on:

Tickets sold at:
Emocionant adaptació del conte clàssic que ens parla del vincle entre els infants i els seus avis
> Premi FETEN 2019 al millor espai escènic, Premi al millor espectacle infantil de la Feria de Teatro Ciudad Rodrigo 2018
La Maria és una nena amb molta imaginació, li encanten els contes, històries i aventures que li explica el seu avi, amb qui passa totes les tardes jugant a Peter Pan. Una nit, els nens perduts s'enduran a la Maria cap al país de Ja mai més… Els pirates, la campaneta, els indis i tot l'imaginari que va escriure James Matthew Barri passaran a formar part de la seva realitat.
Fitxa artística
Interpretació: Íngrid Teixidó i Pere Pàmpols / Adaptació del text: Íngrid Teixidó / Il·luminació i so: Jordi Torras / Titelles i escenografia: Joan Pena i Elisabet Pané – Escena Plàncton / Vestuari titellaires: Olga Cuito / Composició musical: Frank Moreno / Col·laboració especial: Orquestra Fireluche / Muntatge audiovisual: Global Production / Fotografia: Xavi Rué / Disseny gràfic: Marrameus Disseny. Jordi Huete
Address:

C Neopàtria, 54

District:

Sant Andreu

Neighborhood:

Sant Andreu

City:

Barcelona
Where
When

From 06/12/2023 to 17/12/2023
Website
Web venda d'entrades:
You may also be interested in...
If you would like to make a correction related to this activity...let us know