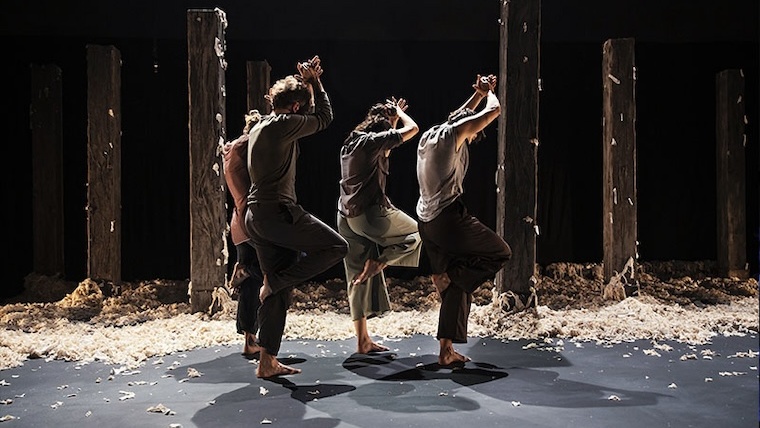 Contemporary dance. Based on research into the post-war period, the work aims to revive historical memory, making it accessible to new generations by using an interdisciplinary language.
Based on research into the period following the Spanish Civil War, Rojos highlights dissident voices and clandestine life during those years of repression, through artists, women creators and the homosexual movement.
It links the present day with the post-war period through first-person experiences and the construction of an artistic narrative that complements the historical one, drawn from collective memory.
Artistic team
Direction, conceptualisation and research: Miquel Barcelona Palau; Interpretation and collaboration on choreography: Miquel Barcelona, Helena Gispert, Martí Güell and Bea Vergés; Musical composition: Carlos Martorell.
Duration: 70 minutes.
Schedule
Days
Hours
Preus

Divendres i dissabte

a les 20.00 h

Entrada general: 16 €

(+ despeses de gestió)
Others
Occur on:

Tickets sold at:
Rojos és un exercici de recuperació de la memòria històrica per aproximar-la a les noves generacions a través d'un llenguatge interdisciplinari.
Partint d'una recerca sobre l'època de postguerra de la Guerra Civil espanyola, la peça posa en valor les veus dissidents i vida clandestina durant la repressió mitjançant les figures artístiques, les dones creadores i el moviment homosexual. Vincula el moment present amb l'època de postguerra a través d'experiències en primera persona i la construcció d'un relat artístic complementari a l'històric creat a partir de la memòria col·lectiva.
· Premi Max 2023 al millor disseny d'il·luminació, Laura Clos "Closca"
· Premi Butaca 2022 al millor espectacle de dansa, Rojos
· Premi Butaca 2022 al millor intèrpret masculí, Miquel Barcelona Palau
· Premi Dansacat 2022 al millor espai escènic, Laura Clos "Closca"
· Premio Certamen de Nuevos Investigadores Teatrales Cenit 2022 (Sevilla) al millor espectacle de dansa, Rojos
· Nominació a millor espectacle de dansa a Teatre Barcelona
Fitxa artística
Direcció, concepte i recerca: Miquel Barcelona Palau / Interpretació i col·laboració coreogràfica: Miquel Barcelona, Helena Gispert, Martí Güell i Bea Vergés / Composició musical: Carlos Martorell / Acompanyament coreogràfic: Fàtima Campos / Acompanyament vocal: Nacho Melús / Escenografia: Laura Clos "Closca" / Vídeo: Ignasi Castañé / Fotografia: Nora Baylach i Núria Aguadé / Disseny d'il·luminació: Laura Clos "Closca" / Disseny de so: Josep Sánchez-Rico / Disseny de vestuari: Mariona Sala / Management: Biel Martínez Lorca / Producció executiva: Tàndempro / Assessoria conceptual i disseny gràfic: Àurea Estellé Alsina / Agraïments: Maria Argentí, Rafaela Casado, Toni Gutiérrez, Oriol Mula, Mariona Castillo, Esther Vendrell, Berta Vilarrasa i Haizea Arrizabalaga
Divendres 1: Estrella Damm us convida a un debat postfució amb la companyia, moderat per un/a crític/a de Recomana.cat
Address:

C Neopàtria, 54

District:

Sant Andreu

Neighborhood:

Sant Andreu

City:

Barcelona
Where
When

From 01/12/2023 to 02/12/2023
Website
Web venda d'entrades:
If you would like to make a correction related to this activity...let us know