Traductor de

: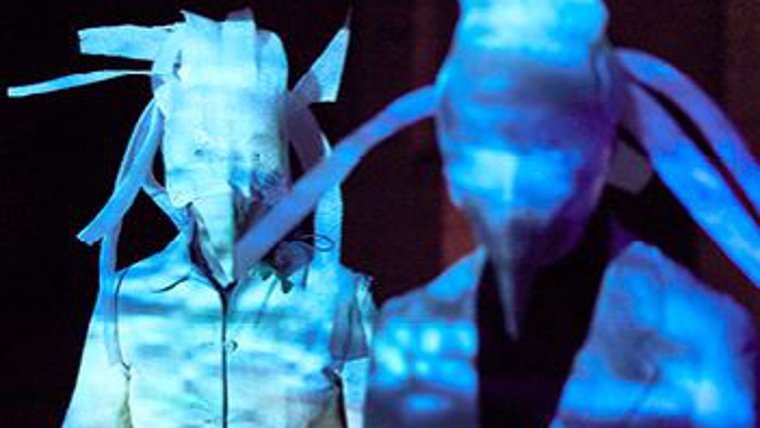 Amb el bagatge de 35 anys de trajectòria que els ha consolidat com un dels referents de la dansa del nostre país, Pep Ramis i María Muñoz es retroben de nou i excepcionalment a l'escenari amb aquest duet.
Double Infinite  és una peça feta des de la fragilitat, la senzillesa i l'amor pel seu ofici que els interroga sobre la identitat, l'individu o el cos.
Un espai gairebé nu on la mutabilitat es fa present mitjançant la il·luminació, el so i els objectes. Un treball minuciós sobre el detall, la precisió del gest, el ritme i la intensitat del moviment.
Double Infinite contempla la necessitat d'imaginar i de perseguir realitats impossibles, de construir una ficció que reveli la importància d'inventar-se el futur i projectar-lo més enllà del que és previsible.
La recerca d'alternatives a la realitat que ens envolta neix de la urgència de dissoldre el que percebem com a real i de donar-se la possibilitat de rebel·lar-se contra el que sembla inamovible, contra les estructures que ens edifiquen com a individus i com a societat. El cos és l'eina amb la qual podem escriure i dissenyar ficcions que ens qüestionin, que ens disloquin. El cos i el moviment contenen codis interns que s'allunyen d'idees estructurades i seqüencials. Parlem d'uns codis infinitament més nus, vertiginosos i reveladors que els de les pulsions del nostre hàbitat, del nostre món.
Autoria
Mal Pelo
Direcció i interpretació
María Muñoz i Pep Ramis
Edat recomanada: A partir de 16 anys
Schedule
Days
Hours
Preus
Observation

Dimecres, dijous, divendres i dissabte

a les 19.00 h

Entrada general: 24 €

Entrada 50% de descompte: 12 €

- Joves de fins a 35 anys

- Carnet Jove

- Aturats

(imprescindible acreditació)




Entrada 25% descompte: 18 €

-Compra abans de l'estrena,

-Abonats TNC (entrades fora d'abonament)

-+65 anys, grups (mínim10 persones)

-Discapacitats (acompanyant gratuït)

-Famílies nombroses, monoparentals i acollida

En venda únicament els abonaments.

A partir de setembre s'obrirà la venda

d'entrades generals

Diumenge

a les 18.00 h
Others
Occur on:

Tickets sold at:
Address:

Pl Arts, 1

District:

Eixample

Neighborhood:

el Fort Pienc

City:

Barcelona
When

From 01/07/2023 to 09/07/2023
Website
Web venda d'entrades:
You may also be interested in...
If you would like to make a correction related to this activity...let us know