Traductor de

: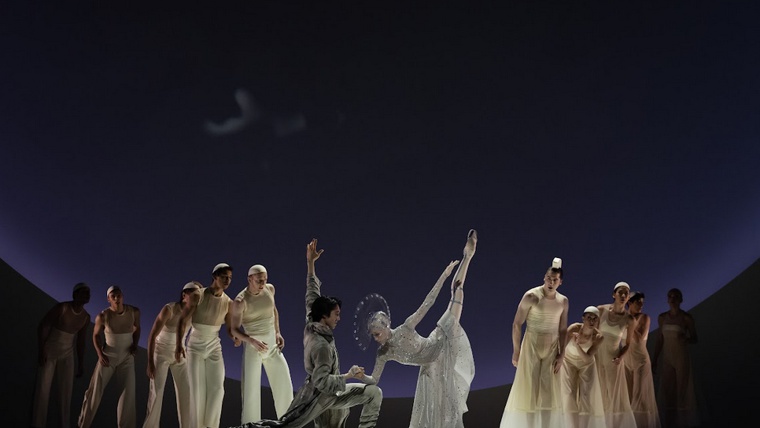 Els Ballets de Montecarlo ens ofereixen Coppél-i.A., una nova creació de Jean-Christophe Maillot. El coreògraf-director de la companyia revisa aquesta famosa peça romàntica, tornant a explorar el món dels autòmats per reflexionar sobre el desenvolupament de la intel·ligència artificial a la nostra societat. 
Aquest títol emblemàtic del repertori clàssic es basa en la Coppélia del 1870 creada per Arthur Saint-León i Léo Delibes a partir del conte Der Sandmann d'E. T. A. Hoffmann. 
Coppél-i.A. projecta el públic en un futur proper en el qual dos joves amants, Frantz i Swanhilda, descobreixen l'amor carnal en una societat que exigeix cada cop més progrés, seguretat i higiene. Quan l'erotisme irromp a les seves vides, un ésser artificial sacseja les seves certeses i desafia tot allò que creien saber sobre de l'amor. 
El coreògraf, en la seva revisió, dota de vida i sentiments l'autòmat creat pel Dr. Coppélius, adquirint així una categoria humana que va més enllà de la versemblança dels moviments humans. 
Per a aquestes vetllades, Maillot ha donat tanta importància a la història com a la dansa; els personatges estan dibuixats amb cura i la música de Delibes està també enriquida per un aire més contemporani que subratlla les emocions dels protagonistes. 
La parella ideal està representada per persones o intel·ligències artificials que, empoderades, qüestionen la nostra posició com a espècie humana? En el moment en què el Japó està redactant una nova constitució on ja preveuen drets per als robots, ja no és un univers de ciència ficció sinó una realitat que ens planteja dubtes i un debat sobre els seus límits.
Coppél-i.A.
Ballet en 2 actes
Estrena : 27 de desembre de 2019 per Les Ballets de Monte-Carlo a la sala des Princes du Grimaldi Forum
Schedule
Days
Hours
Preus
Observation

26 juliol,
27 juliol i
28 juliol

a les 19.00 h

Entrada general de: 10 a 177 €

Informació sobre abonaments i

descomptes a la web i taquilles

del teatre

29 juliol

a les 17.00 h i
a les 21.00 h

30 juliol

a les 17.00 h
Address:

C la Rambla, 51*59

District:

Ciutat Vella

Neighborhood:

el Raval

City:

Barcelona
When

From 26/07/2023 to 30/07/2023
Phone number
Ticket sale:

Ticket sale:

Tel.:

Fax:
Website
Web venda d'entrades:
You may also be interested in...
If you would like to make a correction related to this activity...let us know