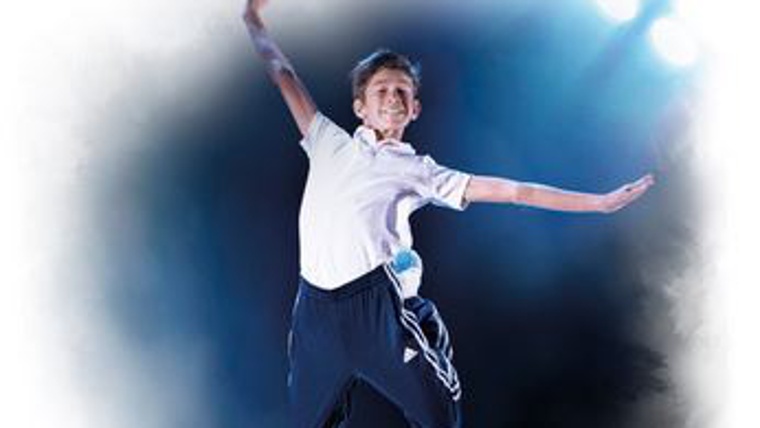 Shows. Billy Elliot was born in a mining community where men box, but ballet's more to his taste.
Billy Elliot, the musicalcomes to the Teatre Victoria de Barcelona after an eight-year run in London, four years in Broadway and three in Madrid.
The musical tells the story of young Billy, born in a city in the north of England where men box and work down in the mines. None of them dances or harbours ambitions to apply to the Royal Ballet School.
But Billy is different.
Raised by a widower father, without any maternal affection, Billy doesn't like boxing but finds himself captivated by the grace and wonder of ballet. He fights with a steely determination to realise his dreams, restoring unity to his family and faith in a community devastated by the turbulent end of Britain's mining industry.
Billy Elliot includes language that some people may consider inappropriate for children. Show recommended for children over the age of 8.
Traductor de

:
Schedule
Days
Hours
Preus
Observation

Dimarts, dimecres i dijous, 20 desembre,
27 desembre i
3 gener excepte 2 novembre, 6 desembre, 8 desembre, 9 desembre i 5 gener

a les 20.00 h

Entrada general de: 34.91 a 89.9 €

(+ despeses de gestió)

Aforament limitat




Durada: 2 hores

Divendres, 1 novembre,
6 desembre,
8 desembre i
26 desembre excepte 24 desembre i 31 desembre

a les 17.00 h

Dissabte excepte 25 desembre i 1 gener

a les 16.30 h i
a les 20.30 h

25 desembre

a les 19.30 h

1 gener

a les 20.30 h

Diumenge excepte 26 desembre

a les 12.00 h i
a les 17.00 h
Others
Occur on:

Tickets sold at:
BILLY ELLIOT El Musical, un dels espectacles més apassionants del món, arriba al Teatre Victoria de Barcelona després d'onze anys a Londres, quatre a Broadway i tres a Madrid.
El musical narra la història del jove Billy, nascut en una ciutat del nord d'Anglaterra en la qual els homes practiquen la boxa i treballen en la mina. Cap d'ells balla ni alberga ambicions de presentar-se a la Royal Ballet School. Però Billy és diferent. Criat per un pare vidu, sense l'afecte d'una mare, a Billy no li agrada la boxa però està captivat per la gràcia i la meravella del ballet. Amb fèrria determinació lluitarà per a aconseguir els seus somnis, retornant la unió a la seva família i la fe a una comunitat devastada pel convuls final de la indústria minera britànica.
A partir de la seva estrena al Teatre Victoria i ateses les característiques de la seva extraordinària posada en escena, BILLY ELLIOT només es podrà veure a Barcelona, sense possibilitat de poder oferir aquesta espectacle en gira.
BILLY ELLIOT inclou un llenguatge que algunes persones poden considerar inadequat per a nens. Espectacle recomanat a partir dels 8 anys.
Address:

Av Paral.lel, 65*67

District:

Sants-Montjuïc

Neighborhood:

el Poble-sec

City:

Barcelona
Where
When

From 09/10/2021 to 30/01/2022
Phone number
Tel.:

933249742
Website
Web venda d'entrades:
If you would like to make a correction related to this activity...let us know