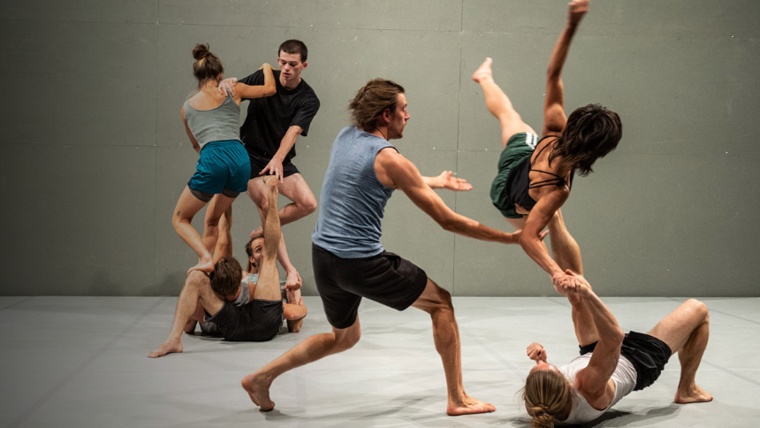 Amb música rock experimental com a banda sonora, vuit ballarins-acròbates exploren els límits físics d'un obstacle vertical gegant. I si una paret alta divideix l'escenari en dos i l'espai restant és massa petit per a vuit ballarins? Serà la paret un obstacle o crearà noves oportunitats? Si les produccions anteriors van ser un diàleg amb el terra i l'horitzontalitat, Foreshadow és una exploració de la verticalitat, en què Vantournhout posa en primer pla la paret posterior del teatre i desafia no tan sols les nocions de gravetat, moviment i espacialitat, sinó també de potencial pur.
La companyia not standing va ser fundada per Alexander Vantournhout, coreògraf belga format en circ a l'École supérieure des arts du cirque (ESAC) i en dansa contemporània a l'escola P.A.R.T.S. El seu llenguatge físic està marcat per dues constants: la cerca del potencial creatiu i cinètic en la limitació física i la relació o frontera entre l'intèrpret i l'objecte. El 2015 va guanyar el Premi CircusNext i des de llavors ha realitzat diferents obres que l'han consolidat com a creador. Al Mercat el vam poder veure recentment amb Through the Grapevine. «L'obra d'Alexander Vantournhout és tan enginyosa que és impossible de descriure. És difícil no meravellar-se davant de l'espectacular intel·ligència física. En pocs anys, ha desenvolupat un llenguatge coreogràfic únic que es nodreix de tècniques de la dansa, les arts marcials, el circ, el ioga, l'anatomia i el món animal.» De Standaard
Concepte i coreografia Alexander Vantournhout / Creació i interpretació Noémi Devaux, Axel Guérin, Patryk Klos, Nick Robaey, Josse Roger, Emmi Väisänen, Esse Vanderbruggen, Alexander Vantournhout / Dramatúrgia Rudi Laermans, Sébastien Hendrickx / Director assajos Sandy Williams / Vestuari Patty Eggerickx / Disseny il·luminació Bert Van Dijck / So Ruben Nachtergaele / Difusió Frans Brood Productions / Management companyia Esther Maas / Coordinació tècnica Rinus Samyn, Bram Vandeghinste / Producció i cap de gira Barbara Falter, Aïda Gabriëls
Producció not standing / Coproducció le CENTQUATRE, Paris (FR), Kunstencentrum VIERNULVIER, Ghent (BE), Julidans, Amsterdam (NL), Biennale de la Danse, Lyon (FR), Le Maillon, Strasbourg (FR), Les Halles de Schaerbeek (BE), MA scène nationale – Pays de Montbéliard (FR) & Theater Freiburg (DE) / Agraïments especials De Grote Post, Ostend (BE), Plateforme 2 Pôles Cirque en Normandie / La Brèche à Cherbourg & le Cirque-Théâtre d'Elbeuf (FR), Maison de la Danse, Lyon (FR), Urte Groblyte, Bjorn Verlinde & Katherina Lindekens.
not standing rep el suport de the Flemish Government. Alexander Vantournhout és artista resident a Kunstencentrum VIERNULVIER a Ghent i artista associat de le CENTQUATRE Paris. És ambaixador cultural de la ciutat de Roeselare i també està finançat per Fondation BNP Paribas pel desenvolupament dels seus projectes
Schedule
Days
Hours
Preus
Observation

Divendres i dissabte

a les 20.30 h

Entrada general: 22 €




Divendres Jove: 10€
When

From 03/05/2024 to 04/05/2024
Website
Web venda d'entrades:
You may also be interested in...
If you would like to make a correction related to this activity...let us know