Traductor de

: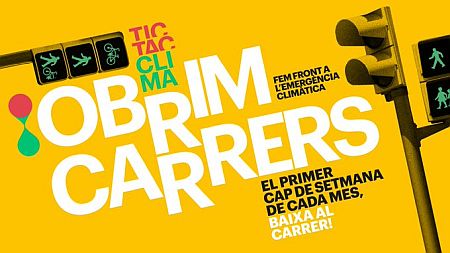 El programa "Obrim Carrers" té l'objectiu de deixar carrers lliures de la circulació de vehicles els caps de setmana per tal que puguin ser utilitzats per al passeig i el lleure de la ciutadania, garantint alhora el compliment de les mesures i distàncies de seguretat a l'espai públic. El programa també busca reforçar i ampliar l'activitat en els eixos comercials de l'entorn.
Alteracions de trànsit:
Es permetrà l'accés per a:− Entrada/sortida del veïnat als pàrquings (públics i privats).− Operacions de càrrega i descàrrega.− Pas de serveis d'emergència i serveis municipals.− Taxis (només en casos d'emergència).− Bicicletes (sempre a la velocitat del vianant i respectant la seva prioritat)− Altres moviments que es considerin essencials.
Desviaments principals: Av. Madrid – Sants. Desviaments cap a l'av. Madrid.Creu Coberta – pl. Espanya. Desviaments cap a Gran Via Corts Catalanes.
Vies en que s'inverteix el sentit: Per a l'aïllament de la zona es faran els canvis de sentit de circulació indicats a continuació: Muntadas – Watt – Muntadas. Desviament per Muntadas cap a Premià i Autonomia. Per a aquest fi s'ha d'invertir el sentit de Muntadas, entre Watt i Premià.Salou – Sants. El trànsit residual haurà de sortir per Salou cap al c. Autonomia, Alcolea i pg. de Sant Antoni.Autonomia – Alcolea El trànsit provinent d'Autonomia ha de sortir cap al pg. Sant Antoni.Béjar – Princep Jordi .Desviament per Béjar en sentit cap a Consell de Cent. Càceres – Sant Jordi .Desviament per Sant Jordi, sentit cap a Daoiz i Velarde.
Vies transversals obertes al trànsit. Es permetrà la circulació transversal de Creu Coberta i Sants pels següents encreuaments:− Consell de Cent – Moianès, cap a Moianès.− Olzinelles – Sants, cap a pg. Sant Antoni / Galileu.− Sants – rbla. Badal, cap a rbla. Brasil.− Sants – rbla. Brasil, cap a rbla. Badal.− Sants – Sugranyes, cap a Portbou. A les vies transversals obertes al trànsit, es col·locaran tanques als dos costats de la calçada per evitar que els vianants que transitin per la via tancada envaeixin la calçada de la via transversal oberta al trànsit. D'aquesta forma s´encaminaran als vianants cap als passos habilitats.
Per motius de seguretat es col·locaran uns mòduls new jersei als següents punts: Pl. Espanya – Creu Coberta (5 mòduls).− Consell de Cent – Creu Coberta – Moianès (12 mòduls)− Sants – Munné (4 mòduls). Els mòduls seran portats i col·locats als punts dissabte al matí i es retiraran diumenge una vegada finalitzada l'activitat Obrim Carrers.
Schedule
Period
Days
Hours
Observation

De l'1 octubre al 30 abril

Dissabte i diumenge excepte 25 desembre i 1 gener

de 09.00 h a 20.00 h

Tallat al trànsit

L'Obrim Carrers es desactiva

durant els mesos de juliol i agost.

De l'1 maig al 30 juny

Dissabte i diumenge

de 10.00 h a 21.00 h

De l'1 setembre al 30 setembre
Carrer de Sants (entre pl Espanya i Munné)
Address:

Carrer de la Creu Coberta, 104 - 106

District:

Sants-Montjuïc

Neighborhood:

Hostafrancs

City:

Barcelona
Where

Carrer de Sants (entre pl Espanya i Munné)
When

From 03/09/2022 to 25/06/2023
Website
You may also be interested in...
If you would like to make a correction related to this activity...let us know