Traductor de

: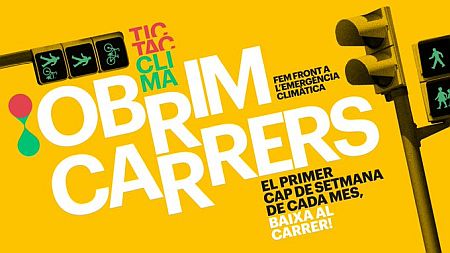 El programa "Obrim Carrers", neix amb l'objectiu de deixar carrers lliures de la circulació de vehicles els caps de setmana per tal que puguin ser utilitzats per al passeig i el lleure de la ciutadania, garantint alhora el compliment de les mesures i distàncies de seguretat a l'espai públic. El programa també busca reforçar i ampliar l'activitat en els eixos comercials de l'entorn.
Alteracions de trànsit
Es permetrà l'accés per a:− Entrada/sortida del veïnat als pàrquings (públics i privats).− Operacions de càrrega i descàrrega.− Pas de serveis d´emergència i serveis municipals.− Taxis (només en casos d'emergència).− Bicicletes (sempre a la velocitat del vianant i respectant la seva prioritat)− Altres moviments que es considerin essencials.
Desviaments principals:Riera de Cassoles – rbla. del Prat. Desviament per l'av. Riera de Cassoles.Trav. de Gràcia – Via Augusta. Desviament per Via Augusta / pl. Gal·la Placidia.Av. Diagonal – pl. Cinc d'Oros. Desviament per l'av. Diagonal.Còrsega – Pau Claris. Desviament per l'av. Diagonal.
Vies en que s'inverteix el sentitPer a l'aïllament de la zona es faran els canvis de sentit de circulació indicats a continuació:
Rambla del Prat. De Gran de Gràcia fins a l'av. Riera de Cassoles (doble sentit).Sant Pere Màrtir. De Jesús fins al Domènec, canvi de sentit.Sant Gabriel. De trav. de Gràcia a Milton, doble sentit alternatiu.
Per motius de seguretat de l'eix, es col·locaran uns mòduls nex jersei als següents punts:− Gran de Gràcia – Pla de Nicolas Salmeron (2 mòduls).− Gran de Gràcia – Nil Fabra (2 mòduls).Els mòduls seran portats i col·locats als punts dissabte al matí i es retiraran diumenge una vegada finalitzada l´activitat Obrim Carrers.
Schedule
Period
Days
Hours
Observation

De l'1 octubre al 30 abril

Dissabte i diumenge excepte 25 desembre, 1 gener i 5 febrer

de 09.00 h a 20.00 h

Tallat al trànsit

L'Obrim Carrers es desactiva

durant els mesos de juliol i agost.

De l'1 maig al 30 juny

Dissabte i diumenge

de 10.00 h a 21.00 h

De l'1 setembre al 30 setembre
Gran de Gràcia (des del pl. Nicolàs Salmerón fins a Nil Fabra)
Address:

C Gran de Gràcia, 100

District:

Gràcia

Neighborhood:

la Vila de Gràcia

City:

Barcelona
Where

Gran de Gràcia (des del pl. Nicolàs Salmerón fins a Nil Fabra)
When

From 03/09/2022 to 25/06/2023
Website
You may also be interested in...
If you would like to make a correction related to this activity...let us know