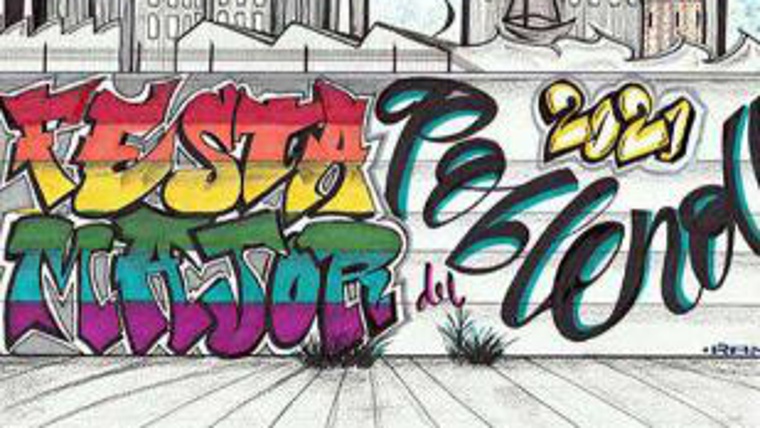 Festivals. From 10 to 19 September.
Organised by the El Poblenou Associations Coordinating Committee and the El Poblenou Association of Street Festival Committees, and in collaboration with several other associations, the Festa Major is planning a programme adapted to the current situation and featuring offerings of every kind, with the maintenance of the safety measures as its chief goal.
Besides several online events, the programme will be featuring various static performances (such as the fire run) and other face-to-face activities requiring prior ticket booking (such as the opening speech) or which do not admit public gatherings (such as the fire castle). All that, to ensure to the full the   maintenance of every safety measures (basically, wearing of masks, social distancing and cleaning of hands) and the gathering of groups of people, to protect against a new wave of infections.
A good number of the neighbourhood's associations are taking part in the organisation of the various events, especially the popular-culture ones, and Barcelona City Council is supporting them through the Sant Martí district.
Traductor de

:
Organitzada per la Coordinadora d'Entitats del Poblenou i l'Associació de Comissions de Festes de carrers del Poblenou, i amb la col·laboració de diverses altres entitats, la Festa Major planteja una programació adaptada a la situació actual i aplega propostes de tota mena amb la preservació de les mesures de seguretat com a principal objectiu.
A part d'alguns actes virtuals, el programa recull diverses actuacions estàtiques (com ara el correfoc) i d'altres de presencials en les quals es requerirà la reserva prèvia d'entrades (com ara el pregó) o que no admeten la congregació de públic (com el castell de focs). Tot, per assegurar al màxim el manteniment de totes les mesures de seguretat (bàsicament, mascareta, distància social i higiene de mans) i la congregació de grups de persones, per tal d'evitar una nova onada de contagis.
En l'organització dels diferents actes hi participen una bona colla d'entitats del barri, especialment les de cultura popular, i l'Ajuntament de Barcelona hi dona suport a través del Districte de Sant Martí.
SELECCIÓ D'ACTES RELLEVANTS
Divendres 10
A les 16 h, obre portes amb La Bullanga, que serà l'espai jove de tota la Festa Major (Can Ricart). A les 19.30 h, la 9a Milla del Drac enguany es farà acompanyar per La Rodafoc.
Diada Nacional de Catalunya
A les 12 h, Toc de les 12 (Marià Aguiló). A les 19 h, inauguració de l'exposició del 30è Concurs de Fotografies (parc del Centre del Poblenou). A les 19.30 h, lectura del Pregó de Festa Major amb l'actriu Beatriu Castelló (rambla / Llull).
Diumenge 12
A les 8 h les Matinades s'encarregaran de llevar als veïns i les veïnes tot anunciant-los que és festa major des de les esglésies de Santa Maria del Taulat, Sant Francesc d'Asís, Sagrat Cor, Patriarca Abraham i Sant Pancraç. A les 10 h, la 25a Cursa Atlètica del Poblenou (inici i final des de la pl. Espronceda).
Dilluns 13
A les 18 h, actuació infantil amb la Cia. En Clau de Clown (Casal de Barri Bac de Roda – Poblenou).
Dimarts 14
A les 20 h, concert amb la Banda Reed Reel Poblenou (Casal de Barri Bac de Roda – Poblenou).
Dimecres 15
A les 17.30 h El Joc del Misteri posa pistes als carrers (Can Saladrigas).
Dijous 16
A les 18 h, els Diables conviden a una Reagae Party (pl. Josep M. Huertas Clavería). A les 22 h, havaneres amb Port-Bo (Diagonal / Selva de Mar).
Divendres 17
A les 17 h, cinema a la fresca amb l'aroma de la pipa de Sherlok Holmes (Roc Boronat / Pallars).
Dissabte 18
A les 11 h, Fira de producte català i DO (pl. Rosa Peraulet). A les 12 h, Matí de Cultura Popular (parc del Centre del Poblenou). A les 15 h, 40 anys de la colla de Gegants del Poblenou (Taulat / rambla). A les 21 h, correfoc estàtic (Almogàvers / Ciutat de Granada). A les 23.30 h, Nit màgica (parc del Centre del Poblenou).
Diumenge 19
A les 10 h, 40a Trobada de Gegants (Can Saladrigas). A les 11 h, 18a Festa Intercultural (parc del Centre del Poblenou). A les 22 h, traca i castell de focs (des dels terrats i els balcons).
Consulteu el programa detallat a La Festa Major del Poblenou 2021, a festamajorpoblenou.org
Carrers del barri del Poblenou
Address:

Rbla Poblenou, 49

District:

Sant Martí

Neighborhood:

el Poblenou

City:

Barcelona
Where

Carrers del barri del Poblenou
When

From 10/09/2021 to 19/09/2021
Website
You may also be interested in...
If you would like to make a correction related to this activity...let us know