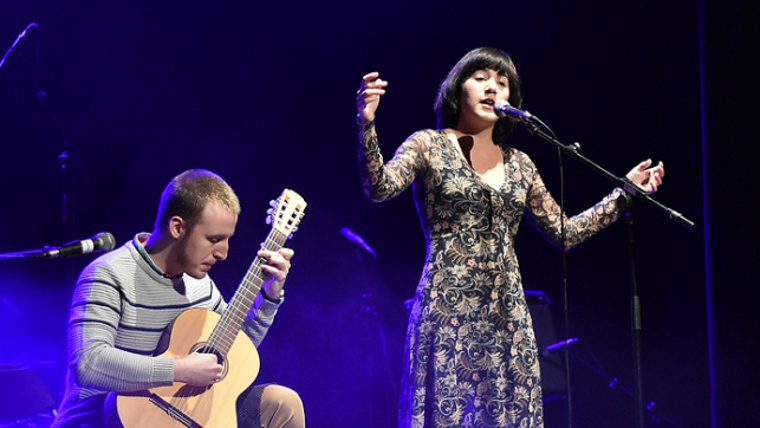 Small-format. Six summer concerts in the Jardí de Can Verdaguer.
The gardens at the Can Verdaguer community centre are offering a cycle of six concerts featuring Mediterranean and world music, performed by small-format outfits in the afternoons in August.
Programme:
Tuesday, 2 August, at 6 pm: Davy Lyons, a singer-songwriter from Ireland, and Nacho López, a violinist from Leon, put poems to music and music to poetry.
Thursday, 4 August, at 6 pm: The duo Oller & Guerra perform jazz compositions influenced by folk, classical music and the singer-songwriter tradition. With Víctor Ollé, piano, and Jaume Guerra, double bass and vocals.
Saturday, 6 August, at 6 pm: Voleo Duo offer a journey around Latin America through tangos, boleros and rancheras, with touches of rock and reggae. With Neus Martinez, vocals, and José Miguel Galera, guitar.
Tuesday, 9 August, at 6 pm: The urban soprano Mònica Mun transforms the space in the gardens into a stage, performing some of the best-known arias in opera.
Friday, 19 August, at 6 pm: Saxophonist Xavi Plaza joins forces with one of the protagonists of the new jazz scene, Camil Arcarazo, to perform classic songs from the USA.
Friday, 26 August, at 6 pm: Carla Sunday, vocals, and Arnau Demons, piano, offer a song-list of blues and soul.
Admission is free but places need to be booked in advance.
More details on the programme can be found here.
Traductor de

:
Schedule
Days
Hours
Preus

2 agost,
4 agost,
6 agost,
9 agost,
19 agost i
26 agost

a les 18.00 h

Entrada Gratuïta
DIMARTS 2 D'AGOST A LES 18H
DAVY LYONS I NACHO LÓPEZ
Veu i violí
Davy Lyons, cantautor d'Irlanda, i Nacho López, violinista de Lleó. El duo ha estat tocant durant els últims sis anys. Sis anys improvisant, gaudint i aconseguint que els seus concerts siguin sempre diferents. Centrats en les lletres crues de Lyons, es deixen portar i toquen completament en el moment. Poemes posats en música i música posada en poemes. L'oïdor està convidat a escoltar, amb l'oïda i amb el cor, en una experiència compartida, en un viatge interior.
DIJOUS 4 D'AGOST A LES 18H
OLLER I GUERRA
Piano, veu i contrabaix
Música íntima, interestel·lar i imprevisible. Aquest duet format per Victor Oller al piano i Jaume Guerra al contrabaix i la veu, interpreta un repertori alegre, introspectiu i eclèctic. Amb el jazz com a punt de partida, aquest tàndem musical es deixa influir pel folk, la música clàssica i la cançó d'autor.
DISSABTE 6 D'AGOST
VOLEO DUO
Veu i guitarra
Amb la veu de Neus Martinez i la guitarra de José Miguel Galera, gaudirem d'un concert teatralitzat, un homenatge a la vida i a l'amor, un viatge per Llatinoamèrica. Sonaran cançons cubanes, argentines, mexicanes i xilenes, alternant els clàssics de tota la vida, amb el moviment de la nova cançó llatinoamericana. Bàsicament tangos, boleros, ranxeres i nova cançó, acompanyades per una guitarra i arranjades amb pinzellades tant de rock o reggae, com de rumba o música balcànica, una fusió de cultures.
DIMARTS 9 D'AGOST A LES 18H
LA SOPRANO URBANA, Mónica Mun
Òpera de petit format
La soprano urbana transforma qualsevol petit lloc en el major escenari del món. Un balcó, un racó...I des d'aquí la bellesa del quotidià i l'humà es fan ressò en la seva veu, en el seu cos, en la seva ànima. Cançons, textos, òpera, poemes, ens porten de viatge cap a l'amor, l'alegria, la bogeria, la por, la tristesa, la nostàlgia. Gaudirem d'una tarda d'òpera de petit format.
DIVENDRES 19 D'AGOST A LES 18H
XAVI PLACE I CAMIL ALCARAZO
Saxo i guitarra
El saxofonista Xavi Plaza uneix les seves forces amb un dels protagonistes de la nova escena del jazz, Camil Arcarazo. En aquesta ocasió tocaran a duet i interpretaran estàndards del cançoner nord-americà. Un concert ple de swing i molta interacció entre la guitarra i el saxo.
DIVENDRES 26 D'AGOST A LES 18H
CARLA SUNDAY ¬ ARNAU DEMONS
Blues i Soul
Carla Sunday és una jove cantant de Barcelona amb una veu potent plena de sentiment. Acompanyant al piano Arnau Demons, formen aquest duo amb un repertori elegant i variat entre el Blues i el Soul.
Address:

Carrer de Piferrer, 94*100

District:

Nou Barris

Neighborhood:

Porta

City:

Barcelona
When

From 02/08/2022 to 26/08/2022
Website
E-mail
E-mail:

info@canverdaguer.com
Social networks
Facebook:

Twitter:

Instagram:
You may also be interested in...
If you would like to make a correction related to this activity...let us know